By Emma Ujah, Abuja Bureau Chief
The Central Bank of Nigeria (CBN), yesterday, extended its real-sector interventions to the oil palm value chain, pledging a single-digit interest loans to players in that sector in order to stimulate massive production of the commodity.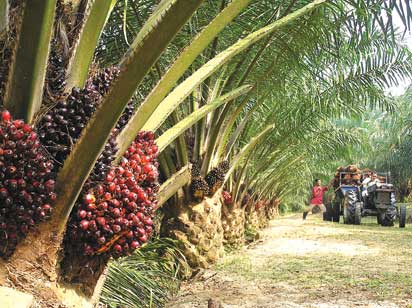 Speaking at a meeting of stakeholders at the bank's headquarters in Abuja, the CBN Governor, Mr. Godwin Emefiele, said that the loans to be granted operators in the industry would be at and interest rate of not more than 9 per cent and would take into consideration the 3-5 years gestation period of the oil palm.
He said, "As part of our Anchor Borrowers Program (ABP) and our Commercial Agriculture Credit Scheme (CACS), the CBN will work with large corporate stakeholders and small-holder farmers to ensure availability of quality seeds for this year's planting season and agro-chemicals in order to enable improved cultivation of palm oil.
"We will also work to encourage viable off-taker agreements between farmers and large-scale palm producing companies. Loans will be granted through our ABP and CACS programs at no more than 9% p.a to identified core borrowers.
"We expect to develop a funding model that will take into consideration the 3 – 4-year gestation period required in cultivating palm oil.
The CBN boss said that his team had secured the buy-in of all the South-South and South-East region of the country, with a pledge of contributing at least 100, 000 hectares, each.
His words, "All the states in the South-South and South- East regions have agreed to provide at least 100,000 hectares for the initiative. This program is also expected to accommodate the small holder farmers."
$500 m annual palm oil import
Mr. Emefiele said that the Oil Palm initiative had become imperative, given the fact that the nation was still spending about $500 million on palm oil importation, annually, despite CBN's foreign exchange restriction to palm oil its importers.
Okowa performs ground-breaking ceremony for 3,000 hectare oil palm plantation, processing plant
His words, "This conversation is indeed important as it forms part of our overall strategy to reduce our reliance on crude oil imports, diversify the productive base of our economy, create jobs and conserve our foreign exchange. Despite placing oil palm in the forex exclusion list, official figures indicate that importation of palm oil had declined by about 40 per cent from the peak of 506,000 MTs in 2014 to 302,000 MT in 2017.
"This indicates that Nigeria still expends close to $500 million on oil palm importation annually and we are determined to change this narrative. We intend to support improved production of palm oil to meet not only the domestic needs of the market, but to also increase our exports in order to improve our forex earnings."
He put Nigeria's current palm oil production at about 800, 000 metric tonnes, per annum, down from its position in the 1050s and 1960s when it was the world's largest exporter of palm oil, with close to 40% of the global market share.
That position, the CBN boss regretted, had been lost to Malaysia and Indonesia with current production of about 25million and 41 million tonnes of palm oil, per annum, respectively.
"We have also become a net importer of palm oil, importing between 400,000 – 600,000 MT of palm oil in order to meet local demand for this commodity," Mr. Emefiele noted.
Replies Muda Yusuf on textiles strategic plan
The CBN governor flayed the position of the Director-General of Lagos Chamber of Commerce and Industry, Mr. Muda Yusuf over his criticism of the textile industry initiative announced by the apex bank two weeks ago.
Mr. Emefiele insisted that the initiative to revamp the textile industry was a laudable one as it would positively impact the economy.
Obaseki targets 100,000-hectare oil palm plantation in 3 years
He urged all good-spirited members of the public support it and to cooperate with the authorities to halt dumping, adding, "we must confront smuggles and dumpers"
Textiles," in the overall interest of the nation's economy.
The Governors Udom Emmanuel of Akwa Ibom; Godwin Obaseki ,Edo; and Victor Ikpeazu of Imo who attended the meeting expressed their readiness to collaborate with the CBN to revamp the palm oil Belt of the nation.