Vice Presidential candidate of the People's Democratic Party, PDP, in the 2019 general elections, Mr. Peter Obi, has called on the Nigerian electorate, especially supporters of the PDP not to be deterred by the events that played out in February 23 Presidential and National Assembly elections but go out and vote for candidates of their choice in the forthcoming governorship and states assembly elections.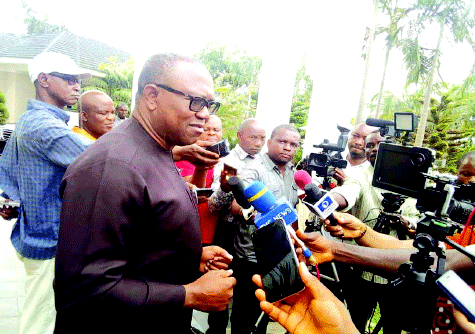 Addressing PDP faithful yesterday at the Senator Uche Ekwunife Events Centre, Awka, Obi expressed worry over the alleged threat by some influential people in parts of the country like  Lagos State, that the electorate who vote for any party other than the All Progressives Congress, APC, would be dealt with. He described such people as ignorant of the law.
He said: "The Nigerian constitution guarantees both indigenes and non-indigenes the right to vote for candidates of their choice wherever their location is within Nigeria."
Obi insisted that every Nigerian is free to vote where he resides without molestation, adding that those who are trying to force people to vote for a particular political party are kicking off what they cannot control.
"Our people are law-abiding and they have contributed immensely in developing the places where they live. Therefore, they have the right to help in determining who governs them," he stated.
While urging the Independent National Electoral Commission, INEC, to correct the anomalies it noticed during the February 23 elections, the former governor of Anambra State said that without the use of card reader as stipulated by the law, the election won't make sense.
His words: "A situation whereby card readers were used in some parts of the country, while voting was done manually on other parts does not make the exercise credible.
https://www.vanguardngr.com/2019/02/why-were-mobilising-26-7-million-igbo-voters-for-atiku-obi-epf/
"We obeyed the use of card readers in our area, while card readers were discarded in some parts of the country. As a result, the votes that came out from those areas did not come out as lawful votes cast in the election because the process was faulty.