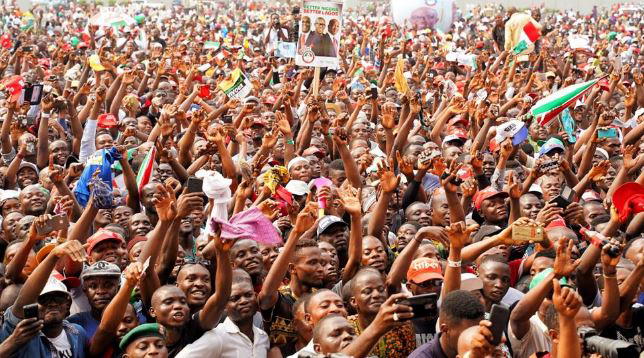 Atiku rally in Lagos
By Morak Babajide-Alabi
It is not unusual if you, a Nigerian in diaspora, colleagues or casual acquaintances, seize opportunities to quiz you on various topics. These questions may range from corruption to politics to kidnapping, natural resources, terrorism or water scarcity in Nigeria. There is this belief that you can fill them in on the gaps of information they hold about this great country of Africa.
These are sometimes proud moments to educate people about Nigeria. There is so much misinformation about most third world countries in the Western media that people form their opinions based on what they are exposed to on a daily basis. It is not unusual for a Westerner to conclude that a large percentage of the African continent still lack potable water. You would not blame them, because they are regularly bombarded with various adverts asking for aids so water boreholes can be provided.
Almost all foreign television stations tell the story of Africa with the videos of most deprived towns. Take, for instance, the British Broadcasting Corporation (BBC) illustrating recent elections in Nigeria with video shots of dirty parts of Lagos City. The agenda is to always portray a country (continent) in need and poverty and instil this in the minds of their viewers. The nicest places in Nigeria are only shown when the topic is corruption. In a way, it tells us how lazy some of these western journalists are and would rather rely on video shots or pictures from archives than travel down to get new materials.
Anyway, these types of information, unfortunately, make my task as a Nigerian in diaspora very difficult. It is not every day you are asked the question – "where are you originally from?" But when you get one, you should be ready to answer a few other questions about Nigeria. The rapidity of the questions will make you wonder if they were pre-installed in the brains of your new found buddy.
The topics can be ranked in priority, but besides terrorism and corruption, the popular Nigerian "Prince" email scams are top there. It is mind-blowing how many people are aware of the scam as loads of people have received emails from this popular "prince". A generous "prince" or a "government minister" with money stashed in a Central Bank of Nigeria's vault but requires a foreign account to transfer the funds. While this claim sounds so ludicrous and incredible, it is unfortunate that many people fall for this.
While most of the emails do not originate from Nigeria, it is generally identified with Nigeria. It is now a defining "export" for the country and that is why this "line of business" is called the Nigeria email scam. I have been asked many times by some recipients of the emails how this "industry" operates in Nigeria. Imagine how tasking it is explaining the process of a business you know nothing about.
The general impression is that it is a legitimate business and probably regulated by a government agency. Some think that because it is on such a large scale, it is a kind of foreign exchange earner for the Nigerian government. It is usually a shock when I reveal that it is really a criminal offence in Nigeria.
Yes, it seems like a thriving and engaging business sector, but the acronym 419 is actually the section of the Penal Code that explains this offence. It states: "Whoever cheats by impersonation shall be punished with imprisonment of either description for a term which may extend to three years, or with fine, or with both."
It is, no doubt, that it is a tiny fraction of the population that see this as a short cut to prosperity. It is admittedly hard to believe that these bad elements preoccupy themselves with targeting innocent people so as to defraud them. It is also argued that this is a reflection of the larger society we live in where a sudden accumulation of wealth is normal. No eyebrow is raised when individuals go about flashing the "cash" and become "rich" overnight.
The society we live in allows this. As long as government officials are not held accountable for their financial dealings, as many email scams will continue to fly around. It is not abnormal to compare Nigeria's politicians and government officials with these email scammers. They all fall under the same category because the end goal is to amass wealth that does not belong to them. The only difference is that while the scammers target individuals, the officials swindle the commonwealth funds.
When a politician campaigns on manifestoes that he or she knows are not "realisable", he/she is more or less sending out scam emails, fraudulently asking for the votes of the electorates. The email scammers' appeal is the promise of a large sum of money to be made if you do their bid. The scammers know there is no money anywhere, but to get their "mugus" to fall into the scheme that is one-sided.
This is exactly what the politicians do every four-year cycle. Yet, we class the individuals that are swindled as stupid, but as electorates, we are yet to wake up to the fact that we are also in the same category. We get swindled every four years when we file out to vote in elections that we get nothing from the long lists of promises.
Like everyone else, I get scam email messages on a daily basis. Some offering a mouth-watering share of hidden national wealth, others advising me to upgrade bank accounts I do not own or telling you about a tax refund. The tax fraud which is the most common in Britain, I am told, is now rampant in Nigeria too.
One disturbing trend in the email scam is that you do not need a certificate in the English Language to identify the poorly constructed sentences. Going by the content of the emails you realise that these scammers are not smart individuals. But they have this impression that the emails are charming and their prospective victims are equally half-wit as themselves. Unfortunately, many have fallen for the scams, so t is established that there are indeed stupid people out there.
So also are the various grades of politicians. The ones who mount the podium, the social media campaigners, the ones who knock on front doors and those that "throw" the goodies of democracy at the electorates. They are all scammers who come around only when they want what matters to them from the electorates – the votes.
A look into history and a comparison of all the campaign promises will reveal nothing but the fact that scams also come on soapboxes. While the email scammers are cowards who hide behind their laptops or mobile phones, the political scammers are very confident. They mount the campaign rostrums and scam the daylights out of the electorates. A governor who promised development before the elections and four years after there is none is a scammer. He/she should be brought to justice under the Penal Coded.
The conclusion is that Nigeria politics and email scams are interwoven. They may share different platforms; they operate in the same way. Unfortunately, the email scammers are getting caught daily while the politicians go scot free. You know why? Those who should regulate them are also scammers.
What is good for the email scammers is also good for political scammers. Period.