• National Drug Distribution Guidelines' implementation misses deadline
By Chioma Obinna
Fake and counterfeit medicines have remained a public health concern. According to the World Health Organisation, WHO, one in 10 drugs sold in Africa is falsified or substandard. These drugs include the ones that can kill or maim. Findings show that some of these medicines contain little or no active ingredients thus prolonging illness.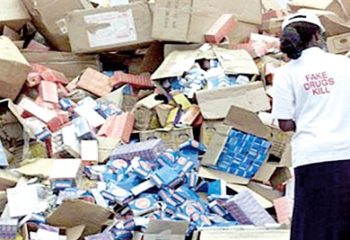 In Nigeria, in 2018 alone, data from the National Agency for Food and Drug Administration and Control, NAFDAC, reveals that the agency destroyed fake foods and drugs worth N4.7 billion in four exercises in Abuja; Shagamu, Ogun State; Kaduna and Gombe.
Despite these efforts, counterfeiting has continued unabated. Health watchers are worried that the country is losing the milestones widely attained in safe medicines when it achieved 40 percent reduction in counterfeit medicines in 2001 to 16.7 percent in 2005 in a survey conducted by NAFDAC and WHO. Sunday Vanguard reports that the failure of the Federal Government to implement the National Drug Distribution Policy four years after it was put in place remains a major contributor to why fake drugs still thrive in Nigeria.
Upsurge in fake drugs
"Every day, our children are killed, our pregnant women are murdered, our elders are giving up the ghost and our hardworking men and women are dying because of lack of access to safe medicines." These were the words of the immediate past President of the Pharmaceutical Society of Nigeria, PSN, and the Chairman, Safe Medicines Foundation, Ahmed Yakasai, recently in Lagos.
His words aptly describe the situation in Nigeria. Stories abound about patients inadvertently being treated with counterfeit drugs, particularly anti-malaria.
Unfortunately, in the last few years, findings show an upsurge in fake drugs which has proven to be a major contributor to high death rates.
According to experts, the problem of fake drug proliferation has affected the credibility of the healthcare system.
READ ALSO: Chinese drugs alert: Implement National drug policy now, PSN tasks FG
Just recently, the social media was awash with the news of a cough syrup with alleged future manufacturing date.   Experts say it is imperative to intensify efforts in fake drug eradication.
To them, government delay in the implementation of the National Drug Distribution Policy remains a major factor in curbing the menace of fake drugs.
A fake drug or counterfeit medicine is a medication or pharmaceutical product, which is produced and sold with the intent to deceptively represent its origin, authenticity or effectiveness. A counterfeit drug may contain inappropriate quantities of active ingredients or none, or may be improperly processed within the body. It may contain ingredients that are not on the label which may or may not be harmful, or may be supplied with inaccurate or fake packaging and labelling.
Experts have linked high incidences of fake drugs to the chaotic drug distribution system, porous borders allowing illegal importation of counterfeit drugs, and weak regulations amongst others. Still little or nothing is being done to implement the only strategy which could curb fake drugs.
All over the world, counterfeit medicines have remained a public health concern and this is why governments and enforcement agencies are taking tougher steps on criminal organizations and companies that are flooding the markets with the medicines.
But the reverse is the case in Nigeria as the country lacks defined drug distribution channel which has helped countries of the world block influx of fake drugs and protects the lives of their peoples.
One of the strategies, the National Drug Distribution Guidelines, NDDG, which was expected to take off in July 2014, is yet to be operational.
The guidelines seek to establish a well-ordered drug distribution system in the country and end the status quo where drugs are peddled by all sorts of characters.
According to Lolu Ojo, a pharmacy, in a report, the consequences of the current system are weighty and destructive for the health care delivery system as well as the economy.
To him, the guidelines are designed to erect pillars and clearly delineated channels of distribution with roles and responsibilities.
In the guidelines, manufacturers and importers are at the apex of the ladder and their role is to make drugs available and sell only to Mega Drug Distribution Centres (MDDC), State Drug Distribution Centres (SDDC) and National Health Programmes while the next layer is occupied by the MDDC and the SDDC. The MDDC is private sector-driven; the SDDC is for the public sector at the state level.
Sadly, four years after, Nigeria is yet to implement the programme.
Speaking to Sunday Vanguard, the Deputy President, Healthcare Providers of Nigeria, HCPAN, Mr. Madehin Gafar Lanre, said the implementation of NDDG policy will reduce fake drugs and save lives.
"What the guidelines are talking about is that we should streamline the channel of distribution from manufacturers down to the consumer level, so that if a fake drug is noticed in the system, it can easily be traced to where it is coming from and withdrawn. But since three years ago, government has continued to promise to implement it and then we were told, last year, that it will take off on January 1, 2019. Now we are in February, 2019 and nothing has been done about it and we are talking about health for all", he said.
Lanre, who lamented the effect of fake drugs on patients and the health system, explained that patients may get the attention of the best medical practitioners who have experience and diagnosed correctly, but a single dose of fake drugs can ruin the efforts of all professionals involved in the treatment of the patients.
He insisted that only pharmacists should handle drugs in the country as it is done in other countries.
He advised Nigerians to see their registered pharmacists for their drug needs as they would guide them on which drug to take and how to take it.
Speaking on the recent alleged futuristically labelling of a cough medicine, he explained that government should implement the guidelines as the quality of drugs starts from what is inside down to the packaging.
Meanwhile Yakasai, who spoke during the launch of Safe Medicines Foundation in Lagos, said: "It really hurts to see fake or substandard and falsified products circulating in our country and maiming innocent citizens".
According to the immediate past President of PSN, improving safe access to essential medicines is crucial in tackling ill-health and reducing infant and maternal mortality rate, which, he said, was very high in the country.
Noting that Nigerians deserve access to safe, standard, efficacious and cost-effective medicines, he said essential medicines save lives and improve health when they are available, affordable, of assured quality and properly used.
Subscribe for latest Videos