…inaugurates Bayelsa State Oil and Environmental Commission
Bayelsa State Governor, Hon. Henry Seriake Dickson disclosed on Wednesday that the Niger Delta region is recording not less than 40 million litres oil spill annually compared with 4 million litres annually being recorded in the United States.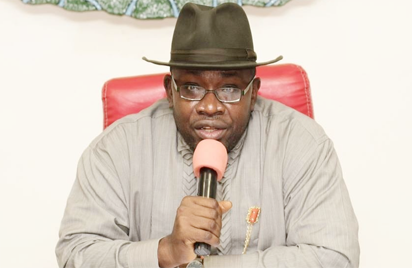 Oil spills: Bayelsa govt drags three oil multinationals to court
The spill, according to a survey could have killed around 16,000 infants within their first month of life.
Governor Dickson who gave the statistics at the formal inauguration of Bayelsa State Oil and Environmental Commission at the DSP Alamieyeseigha Banquet Hall, Yenagoa said the State has suffered vast environmental and human damage in spite of her contribution to the socio economic growth of the country.
He added that the State accounts for forty percent of Nigeria's oil wealth, and hosts the operations of all the major multinational oil companies.
According to him, oil companies operating in the state have for decades acted with impunity and with little regard for the environment and people, causing multiple oil spills and leading to environmental degradation and loss of human life.
On the danger posed by the oil spill, the Governor while citing the 2011 United Nations Environment Programme report, disclosed that life expectancy in the Niger Delta is around 10 years lower than that of the national average.
He posited further that oil spills in the Niger Delta can lead to as much as a 60 percent reduction in household food security, reduce the ascorbic acid content of vegetables by as much as 36 percent, and can decrease the crude protein content by up to 40 percent.
Governor Dickson while expressing concern over the development said the newly inaugurated Commission will as part of its statutory functions, investigate the environmental and human damage caused by operations of oil companies as a result of oil spills and analyse legislations governing the operations of multinational oil companies in Bayelsa State and in Nigeria.
The Commission will develop a set of recommendations that would lead to the development of a new legal framework that ensures accountability.
In addition, the primary aim of setting up the Commission, according to the Governor is for oil companies to agree to a global standard of behaviour, conducting their operations in Bayelsa as they would in Norway, Scotland or the USA.
It will be recalled that Governor Dickson has been championing campaign for habitable environment.
In 2018, he organized a rally against environmental damage caused by oil companies in Niger Delta where he noted that the world has looked on for too long without taking necessary collective action to put a stop to the damage being done by oil companies in Bayelsa.
In his address, the Chairman of the Commission, The Most Rev. Rt Hon. Dr John Sentamu, Archbishop of York said the Commission would investigate the human and environmental impact of multinational oil companies' activities as it is crucial to the prosperous future of the people of Bayelsa and their environment.