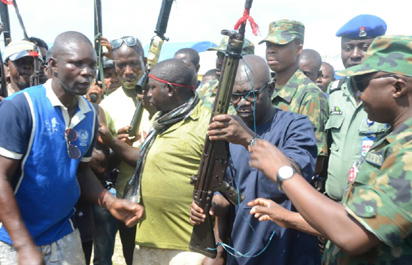 Militants during the submission of arms and ammunitions in Ondo
…IPDI, NDSWON back Amaechi, say he is fighting for justice, equity
By Emma Amaize, Regional Editor, South-South
PORT HARCOURT- ACTIVISTS in Niger –Delta, weekend, called on President Muhammadu Buhari to put the Minister of Transport, Rt. Hon Rotimi Amaechi, under control before he plunges the nation into another full-blown oil war.

The campaigners under the auspices of 21st Century Youths of Niger Delta and Agitators with Conscience, in a statement by self-styled "General" Izon Ebi, said, "This will happen if our rights, aspiration and determination of the people to use their PVCs to choose or elect our preferred candidate and representatives are further trampled upon."
"We want to warn that anything short of declaring the will of Rivers people, who came out in their numbers, devoid of intimidation and killings, stood out to ensure that their PVCs count must be respected. Anything short of the peoples' will would lead to a full-blown oil war on the Nigerian economy, until this administration elapses," they said.
However, two Ijaw groups, rooting for AAC governorship candidate, Awara Biokpomabo, urged the Independent National Electoral Commission, INEC, yesterday, "not to bow to any intimidation and ensure that Awara Biokpomabo is declared the winner in the gubernatorial elections in Rivers state, which is suspended by INEC due to security reasons, but now going to restart, since he is already leading."
https://newlive.vanguardngr.com/2019/03/again-buhari-condemns-violence-in-kaduna-urges-stakeholders-to-embrace-mediation-2/
The groups are Ijaw People's Development Initiative, IPDI, led by Austin Ozobo and Niger Delta Security Watch Organisation of Nigeria, NDSWON, led by Dickson Bekederemo
The agitators asserted, "We condemn in strong terms the desecration of democracy in Rivers state and Niger Delta by the Minister of Transport and the Nigerian Army and caution President Buhari to hold him back."
"The Nigerian Army has allowed itself into partisan politics, thereby degrading our once proud and respected armed forces to disrepute by indulging in ballot box snatching, intimidation of the people, to the extent of barring and refusing international observers from monitoring the elections in Rivers state because of partisanship and self-aggrandizement.
"It is so shameful that a government that prides itself on integrity and fighting corruption would allow itself to be ridiculed by indulging in election rigging and its army, snatching ballot boxes, intimidating and trampling on the people's dignity and liberty to freely choose their leaders in a democracy.
"We are bold to say that election rigging and intimidation of the people, not to freely exercise their rights in a democratic process, to freely choose their representatives and leaders, is worse than corruption.
"We want to warn that no amount of conspiracy, intimidation and killings of law- abiding Rivers citizens can avert the collective aspiration and determination of the will of the people because it will be resisted with devastating consequences, as experienced in the case of the Nigerian Maritime University, NMU, Okerenkoko in Delta state," they added.
Their words, "We want to advise President Buhari to be wary of the antics of his minister, because his previous action of trying to scrap NMU, Okerenkoko, by recommending the its scrapping it and maligning ex-militant leader, Government Ekpemupolo, alias Tompolo, over frivolous corruption charges led to full- blown agitation that plunged the Nigerian economy into recession."
The group stated, "It has been proven that Niger Deltans are resolute when it comes to their rights, liberty and dignity as a people. History is replete with how resolute Niger Delta people and the Ijaw nation are, which led to the creation of old Rivers state and our stand as a people for justice that led to the take-off of NMU, Okerenkoko. Then, not now that it concerns our liberty, right and freedom to freely exercise our democratic right to choose our leaders."
"The Niger Delta people and most especially, Rivers people are not cowards as labelled by the minister that is currently trending all over the media. President Buhari and the INEC led by its Chairman, Professor Mamood Yakubu , have to do the needful and avert the unnecessary, self-inflicted catastrophe that would lead to more loss of resources, manpower and most especially, the excruciating hardship the Nigerian people would be subjected to.
"We, therefore, use this opportunity to call on the International Community, most especially the United States of America, which is a major stakeholder in Chevron and Mobil oil conglomerates, United Nations, United Kingdom, AU and ECOWAS to wade in and restore justice," they said.
IPDI and NDSWON in their joint statement, said, "It may shock you to know that since the inception of democracy from 1999 till date, the Ijaw ethnic nationality of Rivers state has not occupied the political seat of governorship, despite its dominant population."
"Remarkably, from 1999 to 2007, the governorship seat was occupied by Dr. Peter Odili, and thereafter, His Excellency, Rt Hon Rotimi Ameachi took over the seat from 2007 to 2015.
Equity, therefore, demands that an Ijaw man ought to have occupied the seat from 2015.
"Conscious of this fact, His Excellency Rotimi Ameachi (from his APC party platform) sponsored and made a candidate, one of our own, Hon. Dagogo Peterside, but we ignorantly kicked against it. We were cowed with some sentiments at that time. Our excuse in opposition to Dagogo Peterside was that since Jonathan contested under the PDP, it would be an embarrassment for APC to win Rivers State.
"This is 2019, and former President Jonathan is not in the race. It is, therefore, morally unjust and abominable for any Ijaw youth, man, woman or elder to oppose the quest of Hon. Rotimi Amaechi in his determination to enthrone political equilibrium in Rivers State.
"We are aware that some of our Ijaw youths, activists and elders are under the payroll of Rivers state government. It is our concern that we should not sacrifice our Ijawness on the altar of quest for stomach infrastructure. The effort of Rotimi Amaechi to enthrone an Ijaw man as Governor of Rivers State is noble and commendable.
"In areas where a rerun will be conducted, we urge Rivers people to come out en mass to vote Biokpomabo to balance the political equilibrium in the state. We caution security men to tread with caution, not to truncate the fragile peace in the region.
"We strongly condemn the killing and militarization in Rivers for the ambition of any politician is not worth the blood of any man in this country. We, therefore, call on all sons, daughters and elders of Ijaws of Rivers state to support Hon Rotimi Amaechi in his quest to enthrone equity by voting Biokpomabo as the next governor of Rivers state," the groups added.
https://newlive.vanguardngr.com/2019/01/onnoghen-prepare-for-break-up-if-inec-rigs-election-n-delta-militants/