By DEMOLA AKINYEMI
Ilorin – A notorious criminal suspect in Oro town, Irepodun local government area of Kwara state, was on Wednesday set ablaze by irate mob over his alleged perennial criminal activities.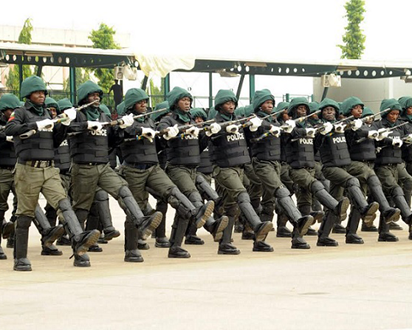 Vanguard reliably gathered that the irate mob had besieged the Oro police station in the wee hours Wednesday, where the suspect, simply identified as Femi Tete, was being detained, demanding his release to them for "proper judgement".
It was also gathered that the suspect had always been in and out of police detention for several criminal offences in the past.
Eyewitness accounts said that the police refused to yield to demand of the people, resulting in melee, as they shot into the air to scare and disperse the growing number of unruly people.
The police action, it was gathered, infuriated the people in the community, as they descended on the police station, destroying everything on sight.
It was reported that the situation got tensed and uncontrollable for the policemen as the people later took out the suspect, set him ablaze and also vandalized the police station.
Some sources in the community said that the mob action was carried out by some aggrieved commercial motorcycle operators in the area, who had reportedly lost a member on Sunday.
The sources said that the deceased motorcycle operator (Okada) had been tricked by some hoodlums, believed to include Femi Tete, into a bush in Agbamu, collected his motorcycle and later killed him.
It was gathered that the deceased motorcycle operator (Okada) was killed in Agbamu bush on Sunday when he was reportedly tricked into the bush by some suspected criminals.
The corpse was discovered on Tuesday by relations and the suspected criminal arrested.
According to a top police source in Oro, the suspected armed robber, Femi Tete of Salawa area Oro, was burnt alive by angry mob, while his remains had been deposited at Omu Aran general hospital.
The source said that he was accused by youths to be mastermind of the killing of one Abdul Ganiyu Tunde, male, of Oke-Ola Oro, popularly called Afobaje at Igbola area of Agbamu, axis.
"Meanwhile, all the efforts of police officers to rescue the suspect proved abortive due to the different objects thrown at the station by angry mob.
https://www.vanguardngr.com/2019/02/election-violence-erupts-in-anambra/
"Police were later over powered. In order to avoid ugly incident on the part of the police, police later tactically withdrawn to take full charge of the station. With timely intervention of policemen in Omu Aran in conjunction with those in Oro, situation has been brought under control. For now, area remain calm", the source said.
Contacted, the state police public relations officer DSP Kayode Okasanmi confirmed the incident.
He said,"I'm aware,we learnt that a criminal suspect was forcefully taken away by angry mob in the police station and was set ablaze while the police station was vandalised.I was told he has killed several people."
"But we are investigating the incident and we will surely make arrest"