As INEC holds rerun polls in six LGAs in Lagos
…Artisans lament LASG non-inclusion in policy implementation, double taxation 
By Olasunkanmi Akoni
A group of accredited observers, Values Reorientation Initiative and Advocacy, VARIA, have stressed the need for Independent National Electoral Commission, INEC, to give adequate and proper education to its Ad-hoc staff in order to ensure a smooth and better exercise on March 9th, Governorship and State House of Assembly elections in Lagos.Meanwhile, INEC has concluded all arrangements to hold re-run in the Presidential and National Assembly polls in six identified Local Government Areas, LGAs of the state.
Executive Director of VARIA, Larry kayode-James, made the remarks at media briefing in Ikeja, yesterday, on the postmortem observation report of the Presidential and National Assembly polls and the need to improve on the standard of operation.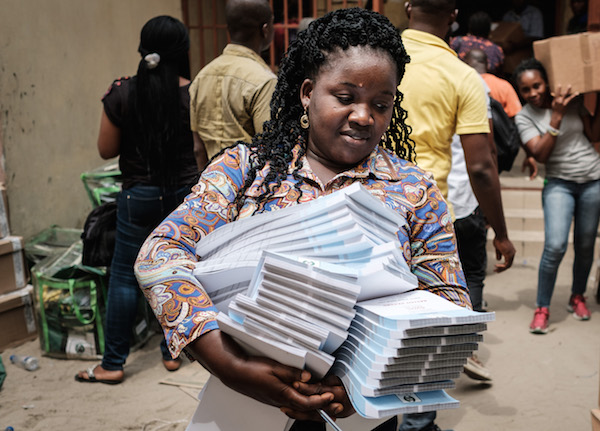 Kaoyed-James said the adequate training and education of INEC adhoc staff became necessary following obvious lapses on the part of the staff which affected smooth operation at polling booths, saying there was the need too but the repeat into check during Saturday exercise.
VARIA Director, who disclosed that the group had deployed about 214 observers across the state for Saturday, elections, also called on INEC, security personnel, political parties, electorate and stakeholders to improve on the standard that characterized the presidential polls despite pockets of violence in some areas as well as ensure violence free exercise.
https://www.vanguardngr.com/2019/03/elections-violence-wike-sets-up-committee-to-identify-victims/
"Our preliminary report of the assessment on last polls showed that INEC performed well except for few hitches in some areas. Though, we still hold INEC responsible for the hitches but they can still do better this time around by putting in their best and make sure that only well trained and educate staff are deployed for smooth exercise," he said.
While commending effort of the military and against the backdrop of condemnation from some quarters against the use of military, Kayode James said, "We will still call for the involvement of military so far as they keep to the lawful 300 metres away from the poling centres. There are presence is for the protection of citizens and property as well as prevent violence."
Giving an assessment of the performance of INEC at the last exercise, the group rated the exercise as 60- 65 percent performance, even as he said it can be better done on Saturday. "The assessment of the poll was better than the previous exercises in 2015, but the only negative indication was the voter apathy, the low turn-out. However, our projection for this Saturday is that it can be better."
INEC holds rerun
On Saturday elections, Public Relations Officer of INEC, Mr Femi Akinbiyi, assured that every arrangement have been concluded to ensure a smooth, free and fair polls.
He disclosed that due to irregularities among other reasons, there will be rerun of the last Presidential and National Assembly polls in six following local governments:
Artisans lament LASG non-inclusion in policy implementation, double taxation
Meanwhile, artisans and technicians in Lagos State, yesterday, lamented persistent neglect by the government in the implementation of its policies and programmes in the state.Speaking under the aegis of Association of Lagos Artisans and Technicians, ASLAT, added that the State Government has also not spared them in tax collection, saying, they still suffer double taxation.The Executive Secretary, ASLAT, Akinyemi Adesina, who disclosed these yesterday, during a press briefing in Agege, stated that they were poised to approach the government and demand for solutions, saying, to correct this, we have decided to engage in politics and work with All Progressives Congress, APC gubernatorial candidate, Babajide Sanwo-Olu."Lagos Artisans/technicians have been neglected and abandoned for so long with no clear cut policy and direction for their operating activities. It is with this mind; we decided to find solutions to our problems and the best way was to partner the government," he stated Adesina noted that to engage the government was for them to participate in 2019 elections especially the gubernatorial election.
"We have met and interact with some governorship candidates. During the exercise, we realized that Sanwo-Olu will include us in his policies. His knowledgeable and experience of governance, management and public administration cannot be quantified. His opponents were not in any way matched his dynamism.
"We wish to assure him that our two million members has decided to campaign for the APC candidate during the election," the secretary added.