•Used condom, empty energizer caplets litter ground – Cleaner
•Margaret Ekpo Int. Airport mgt unaware of sexual escapades – Spokesperson
By Emmanuel Una
CALABAR—LOVEBIRDS have practically converted the grassland of Margaret Ekpo International Airport, Calabar, Cross River State, garlanded with ornamental trees by the state government some years ago, for leisure to Sodom and Gomorrah.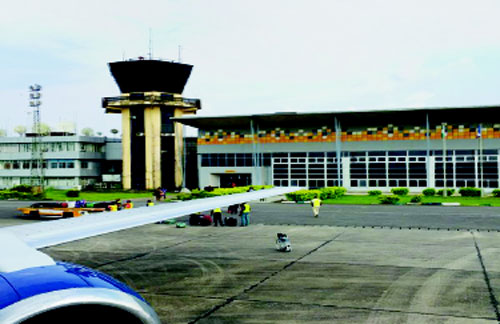 Sodom and Gomorrah are two cities in the Bible destroyed as punishment for the sexual escapdes of the people, who lived there. People sometimes say that a place is like Sodom and Gomorrah as a way of saying that they are very shocked by people's sexual orgies in that place.
Supplementary polls: Police IG directs AIGS, CPS in affected states to ensure adequate security
Stretching over three acres and covered in green turf, the ornamental trees protect from both sunshine and rainfall and that is exactly its allure to love bugs.
Previously abandoned
For several years, the Airport authorities had neglected the expansive area, stretching from IBB War/Eta Agbo Junction to the Atimbo Road/Federal Girls School, Calabar, making it one of the largest open spaces in the city, even more than the Stadium.
Tall grasses covered the buildings that served as workshops  while women from neighbouring Airport Police quarters and Edim Otop villages turned it to a farm land where they cultivated vegetables and cassava.
Duke gives new lease of life
However, in the second tenure of the tourism and leisure-loving former governor, Mr Donald Duke, the state government cleared all the farms and weed, and in their place, planted the green grasses and ornamental trees, giving the place an alluring ambience.
In due course, the place became a beehive of activities, people of different classes, during the day and night, throng there to unwind. Soon, the airport authorities rent out the unused structures around the place to tavern dealers to use as bars and drinking pubs.
Many people started using the place as free venue for birthday parties, wedding reception, graduation parties, family meetings, and so on.
With Calabar having assumed the legendary status of city with high sex drive in the country, scores of people have now turned the place to a sex ground where they make love with their partners at no fee.
In fact, a lot of them no longer visit guest houses to have fun, but simply walk or drive to the field, particularly at night, to have what they call "free-to-air sex."
Many do it right in their cars, while others simply lie on the stripped grass and the fun starts.  It is common to see 'dancing' cars with moaning emanating therefrom as lovers indulge in the game. The presence of sex hawkers,  who move around in skimpy dresses has made the  free-to-air exercise even more pervasive as those without companion basically hook on one and the pastime goes on.
Dovizioso edges Marquez to win season-opening Qatar MotoGP
"Every morning when we come here to sweep, the place is always littered with condoms and other materials like empty packs of energizer caplets," Mary, a cleaner at the Airport told NDV.
Sometimes, women bolt out of cars —Ushie, bar attendant
A bar attendant  in one of the shops, David Ushie,  said some people simply drive to a spot of their choice on the field and begin to cuddle themselves and that drives home the message that those ones did not come for drinks, but to have fun.
"Normally when someone drives in, we take chairs to them, but if they remain in the car, we know they may not need anything or if they peek at us from within the car, we ask them if they need drink or something to chew, but if they say no, we walk away."
He said even during torrential downpours, some lovers remain in their cars for long periods and since it is none of their business, they keep their distance.
"So far, we have not witnessed any ugly incident where somebody died here or serious fights, except cases where the ladies bolt out of the cars naked, perhaps they have had enough and the man still wants more."
Day "bad boys" attacked me while in action
One regular visitor to the place, who prefers anonymity, told our reporter: "If you take a lady to some of these short time places, most times you are told to wait because all the rooms are occupied and during that waiting period, anything can happen, someone who knows you could come around and that may spell trouble."
He said he drove with a woman to a secluded spot where he thought was safe  one day, but while doing it, "bad boys"  came and attacked him, adding that since then,  he prefers the airport field where no one cares what he does in his car or on the grass.
We are in the dark about the act —Alo, Airport spokesperson
Airport spokesperson, Samsudeen Alo, said they were not aware that the place has been turned to a sex arena, adding: "But if what they are doing is consensual, that is their business, but how moral is it for grownups to turn an open space into a sex depot?"  he queried