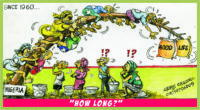 By Francis Eweheride
You have to excuse me, but I scarcely listen to flight attendants these days when they put passengers through safety procedures. May be it is because it has become routine for me, but even more because these safety tips do not seem to work when push comes to shove. I am very sure the Ethiopian Airline aircraft, which crashed last Sunday, went through these safety procedures. It is standard. At least three of the beautiful air-hostesses, who lost their lives, put passengers through the safety routine. But neither "instructors" nor "students" could apply the tips when it mattered most. Of what use then is that medication that physicians cannot use to heal themselves, not to talk of their patients?
But airlines will continue to take passengers through this safety routine and that is the proper thing to do. Someday, some pilots and their crew and passengers will benefit from the knowledge of what to do with the life jacket underneath the chair, in case of emergency, and survive air mishaps, but not the 157 passengers and crew of flight ET302. They have had their lives abruptly cut short.
Nigerian-born Canadian academic, Prof. Pius Adesanmi, was one of the passengers in the ill-fated flight. I never met him, although I met some of his works, but people in the literary circle and academia have said so much about him. He promised so much, delivered so much, but there was still so much left in his reservoir. The leftover has gone with him. It re-emphasises the common saying that whatever you can do now, just do it. Tomorrow might be too late. May their souls find eternal peace.
From what I read on Prof. Hope Eghagha's Facebook wall, Adesanmi's next of kin (his wife, I guess) must have been notified by the Canadian High Commission about the crash, but his mother and the larger family probably heard of their son's sudden death online. That is the burden of fame. It reminds me of my own tragic loss. Less than 30 minutes after my brother, Senator Akpor Pius Ewherido, passed on, the news had gone viral. It was like the walls of the National Hospital, Abuja, had ears. Even in the unbelievable physical and mental torture I was going through, I had to wipe away my tears, steel myself, especially my voice, and break the horrendous news to my mother. I owed it to her; I had promised her I would keep her updated. Moreover, I did not want her to hear it from external sources. Adesanmi's mother probably did not have that "privilege." That is very sad, but that is the way we roll these days.
The Saturday evening before the crash, my editor, Onochie Anibeze, sent me a text, informing me of the death of Mr. Mike Angere, the yoga expert and columnist who shares the same page with me in Saturday Vanguard. It did not make sense. Shortly before I received his text, I had gone out to get a copy of Saturday Vanguard and seen his column. So the man, who sent in his column earlier in the week, will never send another column again, like the rest of the Saturday Vanguard columnists. And it could have been any of the columnists! Who knows what and who is next in life?
Thankfully, the 2019 general elections are (almost) over. Too much blood was shed; too many people died. Some of them were victims, while others were in the centre of the violence that consumed them. In Oyo State, Hon. Temitope Olatoye, aka Sugar, of the House of Representatives, was assassinated. I saw photos of his distraught mother in the newspapers. I also read earlier in the week that one of the legislators who won election to the Plateau House of Assembly, Mr. Ezekiel Afon, did not live to savour his victory or enjoy the spoils of office. He died last Sunday after being ill for a while. That was also how the former governor of Kogi State, Alhaji Abubaker Audu, died even before the results of the governorship election, which he contested, were announced. Life!
While I was rounding off the column on Wednesday, news broke of the collapse of a three-storey building in Lagos Island. It was a mixed-use building housing a school, residences and shops. So far scores of people have died. Some of the tales of the bereaved and affected families are heart wrenching: "Gbenji did not want to go to school today (Wednesday). He said he had stomach upset and I thought it was one of his pranks…I had to give him N50 and extra piece of meat before he reluctantly went." I had goose bumps when I read this tale. My daughter, the baby of the house, also did not want to go to school that same Wednesday. She complained of stomach upset. I felt she was playing games. My wife gave her some medication and I dropped her off in school, instead of insisting she stayed at home for observation. The stomach pains grew worse and by 10am, the school called her mother to come and take her. Children play pranks, but may God give parents the spirit of discernment. I have since apologized to her.
Another parent, whose three children are pupils in the school, said the children only resumed school a day before the building collapsed on them. They had been home due to their father's inability to pay their fees. If only the money with which he paid the children's school fees had tarried for two more days. This parent was not the only one with three children in the school. At least two other parents, who were wailing at the scene of the collapsed building, said their three children were trapped in the rubble.
For years and on several occasions, I have had three children in one school. My heart goes out to these parents. They are victims of an avoidable tragedy. The building, like many others in the area, had been marked for demolition many times, but it was alleged that the owners kept bribing and the building inspectors kept collecting. We have heard this tale many times; we are still going to hear it again. Our people say the stick you see cannot pierce your eye. But in our public life, the sticks we see inflict more damage on our eyes than those we do not see. The evidence is there in the public domain. Ours are comedies that have gone horribly tragic. Yet the beat goes, life goes on, even if many of our people find it tasteless.
https://newlive.vanguardngr.com/2019/03/father-gets-16-years-for-monstrous-acid-attack-on-son/