By Prince Osuagwu
Device and home equipment maker, LG Electronics has teamed with Zenith Insurance to add more value to its products.  The partnership gives up to 80 percent cover against fire and accidental damage to electronics purchased from any of its outlets.
LG said it entered into the partnership with the insurance firm to deepen its penetration in the Nigerian market as well as to provide premium service to customers.
Head of Corporate Marketing, LG Electronics, West Africa, Mr Hari Elluru, said "with the ever-changing tech world, customers are buying and giving out new gadgets to friends and loved ones, so it is important to make sure new home electronics are covered with electronics insurance. We are known for delivering all-in-one solution to ensure that our customers enjoy premium services".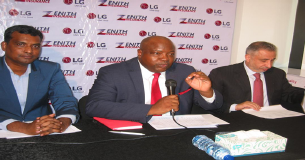 He added that "as a customer-centric brand, we pay attention to the needs and aspirations of our customers. We are enriching lives through our products and want to ensure that our customers don't have to worry about anything while enjoying their products. When we promise, we deliver. And this is a demonstration of our commitment to enhance our consumer lifestyle in Nigeria."
Also, Managing Director Fouani Nigeria Ltd, Mr Mohammed Fouani said the cover is applicable for the first year of product purchase, after interested customers have paid additional three percent of the cost of products purchased, as Insurance premium.
https://www.vanguardngr.com/2019/03/huawei-partners-40-universities-to-ensure-digital-inclusion-in-nigeria/
The premium is charged at the point of purchasing the product. LG said after the premium, should there be any damage on the product insured, the customer will only pay 20 percent of the cost of repair or replacement of the product while Zenith Insurance will cover the remaining 80%.
However, the company also rolled out free insurance packages on premium products like OLED TVs, Instaview and TWINWash purchased at any Fouani Nigeria Ltd stores, although the free policy is for just one week period.
Meanwhile, Managing Director, Zenith Insurance, Mr. Kehinde Borisade, explained that "the insurance covers fire and accident damage to household electronics, phones, tablets and computers; especially of the LG brand, purchased from Fouani Nigeria Ltd. It covers for 12 months effective from the date the insurance is activated. Damaged items will be replaced or repaired based on Fouani's assessment".