By Sam Eyoboka
IN the face adversity against the Church in Nigeria and unceasing killings of innocent people in Southern Kaduna, the Hausa Christ-ians Foundation (HACFO) has appeal-ed to Nigerian Christians to rally round the Adara people in Kajuru Local Govern-ment Area of Kaduna State.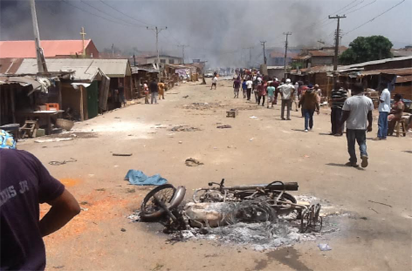 A distress letter sent to our religious cor-respondent yesterday which painted a grave picture of developments in troubles Southern Kaduna, appealed to all be-lievers to send any form of support to the people before April 1, 2019 because the situation there which is often under-reported is pathetic.
The letter by HACFO, which has been at the forefront of campaign against continued systematic ethno-religious killings rampaging our lives all over the nation, said "over 4,700 people have been displaced, their lives have been forcefully halted and all their means of livelihood burnt down."
Olonishakin: A perfect military navigator cum administrator
According to the HACFO memo; "five communities are in utter pain of lost, rejection and humiliation, in their own country without any inter-vention from the government…as over 129 innocent people, mostly women and children, have been killed. Hundreds have become orph-ans overnight.
"Many women have lost their hus-bands and are left with children to take care of, without food, shelter or any means of survival," the distress letter stated.
Continuing, HACFO maintained that the affected people who have been crying out for help, are now living in six different camps without the certainty of living or what to eat the next hour.
"Many are in dire needs of medical attention not just food or clothes or shelter, but to whom shall they go, who will help them find hope again? Certainly, their help will only come from Christ-like minds as yours," the Foundation which says it has been overwhelmed by cries of impression-able children, further appealed.
"The information we have at hand on the state of things in these places compelled us to reach to all our friends and partners to support these brothers and sisters in Kajuru LGA who have gone through so much pain.
Our target is to assist at least 100 people with clothes and food items. We are reaching out to them in our little way because we can't continue to watch them die of hunger and lack of other necessary supports.
"In this critical moment we are trust-ing God to reach out to them with clothes and food items. As a friend and partner of the Hausa Christians Foundation, we appeal to you by the mercies of God to come to the aid of these brethren in a time like this.
Whatever the Lord lays in your heart to give should be sent before April 1, 2019. As you give, may God in His infinite favour and mercies prosper you the more. Amen! You can send your assistance through our office: 08057543004; 08097160037
*Or send your financial assistant to: Account Name: Hausa Christians Foundation Account Number: 0261749307 GT Bank.