The escalating conflict between Israel and the Hamas movement in the Gaza Strip continued overnight, despite a reported ceasefire between the two sides, Israel's Army said on Tuesday.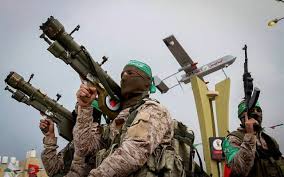 Palestinian militants fired around 30 rockets from Gaza into Israeli territory surrounding the coastal enclave, according to an army spokesman in Tel Aviv.
The Israeli air force meanwhile continued to strike targets in Gaza overnight.
Israel said it struck around 15 "terror'' sites in the northern Gaza Strip, including two military compounds.
Tanks and attack helicopters were also deployed.
Late Monday, a Hamas spokesman said Egypt had succeeded in brokering a ceasefire between his side and Israeli forces.
There was, however, no confirmation of the ceasefire from Israel.
The fighting began after a rocket fired from Gaza on Monday hit a house in central Israel, injuring seven people including children.
In Washington, Prime Minister Benjamin Netanyahu cut short an official visit in light of the surprise attack, returning to Israel after a meeting with U.S. President Donald Trump.
The escalation comes just two weeks ahead of Israel's general elections.
Netanyahu has faced criticism from politicians both from the left and right for being too soft on Hamas, which has controlled Gaza since 2007. (dpa/NAN)
Subscribe for latest Videos