By Chimaobi Nwaiwu
Nnewi – The Indigenous People of Biafra, IPOB, Monday dismissed one Anthony Nwoko as a false prophet who sees vision for his victims according to how financially fat and juicy their pockets are.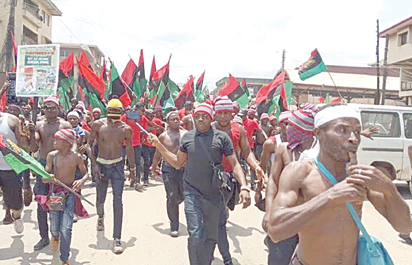 Responding to Nwoko,s alleged backlash against IPOB, restoration of Biafra, allegation that Nazi Nnamdi Kanu to collected money from APC, the Deputy Leader of IPOB, Mazi Uche Mefor, described him as business prophet.
He said that all the predictions of Nwoko against its leader, Mazi Nnamdi Kanu, IPOB and Biafra restoration are riddled with inconsistencies and contradictions, an evidence of and deceptive practices.
"Our attention has been drawn to the falsehood, deception and sponsored attacks by the enemies of the Biafra restoration project as presently being peddled by one Anthony Nwoko, who by all standards remains an ingrate, a false con prophet who sees vision for his victims according to how financially fat and juicy their pockets are.
"A cursory look at all his predictions would leave no keen observer in any shred of doubt that they are riddled with inconsistencies and contradictions, and evidence of deceptive practice carried out by fraudsters who prey on the vulnerability of their victims.
"Nwoko, in his delusion thought that freedom fighting especially that of Biafra is a business enterprise and has recently been backed by the enemies with sponsored media attacks and with malicious intent to bring down the one and only accepted Biafran leader Mazi Nnamdi Kanu.
"We remind Nwoko that he is a no match to the sagacious, ebullient and charismatic, leader of all time, our very own Nnamdi Kanu. Where do we start this comparative assessment from? Is it at the level of mental capacity?
"We cannot join issues with mentally unstable and delusional people. When talking of character and ability to influence, Nwoko lacks the oratory and followership among our people.
"Or is it in the area of international politics, global affairs and history, we remind him that together with all his sponsors, they are at the lowest point of the league table compared to Nnamdi Kanu.
"Normally these attention seeking, hungry and delinquent wannabes would not merit any worthy response but becsuse we inhabit a climate where envy fuelled gossip is peddled as fact, I have been compelled to respond to this latest installment of filth.
"Poverty stricken misguided fifth columnists and purveyors of mischievous falsehood in the media, a while back told us that Mazi Nnamdi Kanu works, collected money from APC because he called for boycott of elections.
"Surprise, today the story has changed to Nnamdi Kanu collected money from Atiku but only this time, according to the dream of deluded and hungry fake prophet."
IPOB regretted that starvation caused by the administration Nwoko is working for to castigate IPOB, Mazi Nnamdi Kanu and Biafra agitation, has damaged the psyche of their prophet, when all their prophets can see in their vision is only money.
Nwoko the APC prophet did not see vote rigging, blatant falsification of results, thuggery, death and mayhem, all he saw was money.
"Hunger has a way of distorting the thought process of certain individuals. My question to the fake prophet and his like is this, what happened to the allegation that Nnamdi Kanu took money from APC?
"These foolish character assassinating morons and their foolish allegations is symptomatic of how vacuous, disordered and disorganised state some people are in this country.
"With this nonsense being spewed out by this hungry prophet of Baal, does it then mean that those accusing IPOB of collecting money from APC got it wrong?
"Where are those that said that Nnamdi Kanu took money from APC at the height of the boycott? It is unfortunate that many hungry people now see the name of Nnamdi Kanu as a meal ticket from APC government.
"We can excuse this Prophet of Baal on certain grounds and allow him his freedom of speech but not his inbreed stupidity and the inexorable fact that he is split personality, an opportunist and a backstabber who has taken betrayal to a dangerously new height.
"Let it be on record that Nnamdi Kanu rescued fake prophet Nwoko from destitution on the streets of Ajegunle in Lagos where he was dumped following his deportation from USA.
"It was the same Nnamdi Kanu that took him to Enugu and later paid for his accommodation. Even from prison Nnamdi Kanu authorised for him to be moved to a one bed apartment which he paid for from detention in Kuje.
https://www.vanguardngr.com/2019/02/ipob-accuses-police-of-killing-5-arresting-15-members-in-imo/
"This prophet of Baal visited Afaraukwu in 2017 to felicitate with Kanu and to ask for more money to open a ministry and be like Father Mbaka, but Kanu turned him down and since then he has been bitter.
"Recently, he thinks that he has arrived with the help of his fellow traitors in governor's lodge across the South East. They think they can command followership and loyalty the same way Kanu does and therefore through these baseless and dubious claims of having revelations from God, they hope to discredit the Biafran leader and win over Biafrans to their side."
https://www.vanguardngr.com/2018/10/5-pro-biafra-groups-commend-ikpeazu-for-assurance-on-rebuilding-of-nnamdi-kanus-fathers-palace/