…Says elections were peaceful 
The Inter-party Advisory Council, IPAC, has condemned what it described as the concerted and malicious attack on the Akwa Ibom State Resident Electoral Commissioner, M. Mike Igini.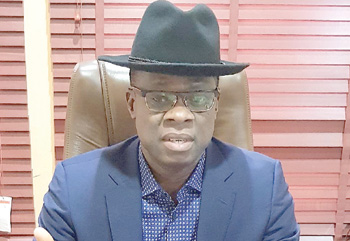 Stop Politicising Army, Olowu warns
Speaking at a press conference held in Uyo on Tuesday, 12th February, the group maintained that Mr. Igini deserves praise and gratitude for standing up to what is right and ideal by refusing to compromise anyone during the election.
"Igini refused to dance to the antics and blackmail aimed at attacking his sterling character and integrity, especially from the APC. Mike Igini deserves the praise and commendations of Nigerians, INEC should be proud of likes of mike", IPAC noted.
IPAC maintained that its members are proud to note that a credible election was held and the voices of the people and their votes counted.
The group disclosed that the Presidential, National Assembly as well as the just concluded Governorship and State House of Assembly elections were peaceful in Akwa Ibom, even though there were outright intimidations and harassments in some parts of the State by those it claimed were fake agents of the security agencies.
According to IPAC, the election proved one fundamental point, that the People's Democratic Party (PDP) has commanding followership in Akwa Ibom State and the results announced are the true reflections of that deep sense of loyalty to the party by the people.
The group blamed APC for their failure, stressing that "one political party out of over sixty  political parties operating in Akwa Ibom State relied more on the aid of security agencies which they had termed "Federal Might", while the PDP was entrenched within the grassroots, and when the time came, they rose in unison and voted for their party, and went ahead to defend their mandate.
"That one indisputable lesson in the just concluded elections in Akwa Ibom State is the Majesty of God in the affairs of man and of course, the unflappable will of the people to determine who rules them."
"Democracy is about the will of the people, it is not an exercise that is conducted under duress or through the nozzle of gun or the sharp edges of the bayonet.
"Akwa Ibom people rose in unison across the three senatorial districts and told the world loud and clear that in the God of Udom Emmanuel, they trust."
"The results of the elections are the true reflection of the wishes of the people", IPAC maintained.
Subscribe for latest Videos