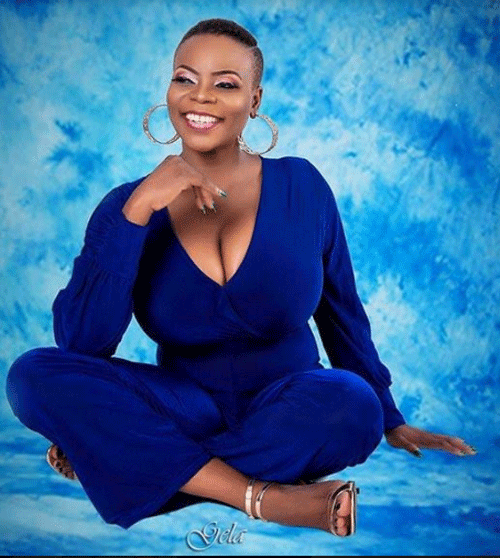 …Says, "I'm a broadcaster, not OAP"
By Ayo Onikoyi
Most people in the electronic media have come to see themselves as On-Air-Personality (OAP), to the extent that you hardly come across any who describes themselves as broadcasters.
But for the popular co-host of 'Entertainment Splash' on Television Continental (TVC), known as Honeypot, born Olayemi Ogunwale, it's an aberration and she would rather see herself as a broadcaster – for a number of good reasons. In this interview, Honeypot keeps no prisoner in asserting her views on sundry issues.
I know next to nothing about you except that you are a OAP, can you tell us more about you?
My name is Olayemi Ogunwole also known as Honeypot, which is my stage name. I am from Ishara Remo, Ogun State; I grew up in Abeokuta and later came back to Lagos. My primary education was at Montessori International Nursery and Primary school, Abeokuta, while my Secondary was at St. Louis Grammar School, Mokola, Ibadan. I was in boarding house, it was a convent boarding house where we were taught morals and etiquette.
Joshua will be knocked out by Miller – Wilder
I went to Obafemi Awolowo University (OAU), Ile Ife, Osun State.  I have been to Day Star Leadership Academy. I am a broadcaster, I started from the scratch and I grew through the ranks. I started with TV while I was in school and I went on to doing radio. Back in those days, I used to write a lot unlike these days that I don't really have time to write again. I am a content provider or a creator, I anchor events, I host events, I'm a master of ceremony. I'm also a businesswoman, I do all of these and many more. Very shortly I'm going to have my clothing line and I will be launching my jewelry business too
Can you tell us the places you have worked?
I started working from my year 3, that was when NCA Ife was established, then I had a programme called 'Fact Finding with Yemi', it was a great one. I was an independent presenter. I have worked in quite a lot of entertainment organizations, from a radio to TV host. I have worked with Bisi Olatilo show as a voice actor and also a writer.
I have been the Head of program at Rainbow FM, I have worked with Rock City FM, I have worked with Star FM, and Radio Continental now Max FM,  then I started doing TV, that is,Television Continental. As I'm speaking to you, I am a contract staff at TVC, I am one of the co-hosts on 'Entertainment Splash'. I also do Red Radio, that is, Heaven Zone on Red Radio which is owned by UBA. I am the CEO of Zebathile Media Limited, that's my business name.
Why did you leave Max FM; You only informed us about your leaving not why?
I left Max FM because I had so much on me. I was working so hard, I was doing radio and TV, I worked like six days a week. Well, I really love radio, I love what I do but then I had to set a target and move on because I knew I could actually still do radio on contract, and I could also do other things.
I felt I was being tied down and I needed to do other things. If you are a full staff somewhere, you are not permitted to do other things, I have paid my dues, I have worked for stations so I needed to do my things too. I needed to put a face to the name 'Honeypot' because the name has travelled so far and some people still don't know me when they meet me in person. It's all about purpose, it's about fulfillment and its about affecting lives.
What brought about the name "Honeypot", it has a sensual ring to it?
I get this question every time and perhaps one of the reasons I love the name Honeypot is, because people raise eye brows whenever they hear it and they remember anytime they see me. I have said it like one million times and I'm saying this again "God gave me the name 'Honeypot'".
Burna Boy features in first Star lager beer commercial
Why did I say this? I pray to God about almost everything and when I was looking for a radio name, I prayed about it and I just read a novel and I found Honeypot in it, that was the first time I came across the word 'Honeypot', and it wasn't anything sensual at all, the character used it in the context "this living room is the honeypot of the building" and so this writer was saying it's the center of attraction. I checked up the meaning and it was actually what he meant, I did not even see other meanings. If I had seen other meanings maybe I wouldn't have used the name at all. So my own meaning of Honeypot is "center of attraction".
Many people in the electronic media hardly call themselves broadcasters any more; they seem to prefer on-air personality; what really is the difference?
There are times I have met people whom I told I'm a broadcaster and they turned and looked at me again. I met someone in the Future Awards last  year and I said I'm a broadcaster and she said it's been awhile she heard that. I am a broadcaster because I am broad, I do all of these things, it's not common to see someone who could do news and do entertainment, I am an all-rounder I must say.
I have been in the newsroom, I wrote my news, edited my news, and I still went on to read my news. I am that flexible, that is why I can say that I'm a broadcaster, must people who read news are rigid, they might not be able to do entertainment. I would say that being an on-air-personality is the mild part of it while a broadcaster is a flexible entertainer who fits into different entertainment skills.
What is life of a broadcaster like, I mean their daily routines and how they get going on the job?
Broadcasting is one job that you can be on and get carried away especially when you have passion for it. You can even forget about your own personal life, I am talking out of experience, that was why I just had to leave Max FM and move on.
Sometimes you will discover that you don't have a life any longer because you have a passion for your job. Your head is calculating and creating and you just want to keep working, unfortunately here in Nigeria when you start working and doing some things just to make things go well, they place little or no value to it. They will keep giving you work to do and saying he or she likes to work and they don't pay for it,
Broadcasters or OAPs come expensive to maintain as both a wife and girlfriend. How expensive are you to maintain?
I don't know how easy it will be to answer this question. I think it depends on the individual, to me, it's Showbiz, I do TV and TV is like 95% glamour, you have to look good at all time. I am easy to maintain if you are rich, just make sure I'm driving beautiful cars, I change cloths every time, I get to spend money every time, money is good, you can agree with me that it makes the world go round, right?
What's your marital status, and if unmarried, why?
I am not married, this is because I have not seen the person I could actually settle down with. If I find the person and we are on the same page and the person wants to be with me too, why not? That's the reason I'm not yet married and I'm looking forward to it very soon.
There is a cliché that "no beautiful woman can stay with one man", how has your experience been with men and how would you describe Nigerian men in romantic relationships?
I really don't agree with that statement that no beautiful woman can stay with one man, because I know that love still exist. If you really like that person and you are cool with the person, why change? I know of ladies who put all their eggs in on basket and they are beautiful, they face who they are dealing with at that particular time.
I see that the world has changed, things are not how it used to be, I have met a lot of married men who know that they are married but they still come to you to ask you out, most times I just wonder when I see things like that, some of them don't wear rings and they look so young and you would be hopeful, thinking that you could actually start something with them, this has happened to me before, and you will be disappointed to know that the guy is married.
I like it when some guys tell you the truth that they are married, and some of these young guys will shock you by telling you they've been married like since 1952. Most times you see the married men pestering the single girls, sometimes its not the girls who really want the married men but they are pressurized  by the men. Most men mislead the single ladies, raising their hopes towards marriage, there's no reason to lie to ladies, tell them the truth and wait for her decision.
So in view of your outward appearance, you must have been overburdened with the compliment that you are sexy. What makes a woman sexy and would you describe yourself as sexy or just beautiful?
If I understand the meaning of sexy well, it means sexually attractive. Somehow, I see it as offensive, but I feel people have come to accept it as a compliment. If it's going to mean sexually attractive, I do not want it to be the first thing people see in me. When people see me I like to be just beautiful, there are more to a beautiful lady.