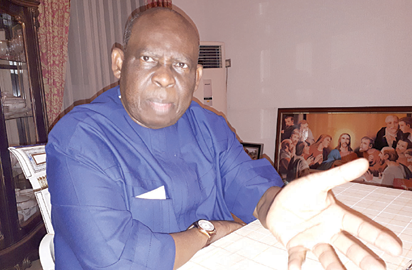 •Prof. ABC Nwosu
By Olayinka Ajayi
•Says Ndigbo doesn't care about them
Professor ABC Nwosu was political adviser to former President Olusegun Obasanjo and also a former Minister of Health. Not many know that during his final year at the University of Ibadan (UI) and the civil war was raging, he left the academic community to join Biafran soldiers. In this exclusive interview, the political scientist analyses the penultimate weekend's presidential election among other issues of national importance. Excerpts:
What actually led to the problems we are facing as a nation?
I don't know how to explain it. But in mathematics, there is what is called the Kiosk Theory now applied in social sciences. Nigeria is faced with the worst form of the Kiosk Theory. Those who care can go and read about the theory as I won't go further.
But is this the Nigeria you envisaged after the civil war?
My book on the civil war will soon be out because some of us were involved in it. The nearest to it was the late Prof Chinua Achebe's own but the civil war was not fought because the Igbo wanted to secede. If you know my relationship with the late Odumegwu Ojukwu (Biafran leader), you will realise what I mean. When you read Professor L.J. Kooky's book, 'Ojukwu, a rebel with a cause', you will find that the Igbo didn't want to secede. And we never expected that we will get to that stage. What we were looking for was African renaissance through Nigeria. When former President Obasanjo appointed me as his political adviser, I got a group of people, including very famous names, to do something under the theme of the African renaissance. In fairness to Obasanjo, he made a very good attempt at it as he forged an alliance with then-South-Africa's President Thambo Mbeki to try to make Nigeria the star that would push Africa up into the sky.
Where do you stand regarding the elections that threw up President Muhammadu Buhari as winner?
It is clear to me that the election fell far below standard.
https://newlive.vanguardngr.com/2019/03/archbishop-expresses-dissatisfaction-on-voter-turnout-in-enugu/
But on the contrary, some people are of the opinion that, since 1959, the 2019 presidential election is the most credible election in the nation's history. What do you think?
That is their opinion. My opinion is that it can only be compared to former President Shehu Shagari's landslide victory of 1983, which was one of the reasons for then-military takeover. I can give some examples. The first one is the Borno election result. Borno produced over 800, 000 votes in favour of the President. I have no problem with the victory but with the volume of the votes. For over four years, Borno has been ravaged by Boko Haram. I know the area very well because I was a consultant on the South-Chad Irrigation and Diseases Control programme. So I know Gamboru-Ngala very well. Where Governor Shettima's convoy was attacked before election and he promised to get back, even at the expense of his life, why should he say at the expense of his life if the place was peaceful? He promised to get back but he never did. That place got more votes than Enugu where the turnout was very high, more votes than Anambra where the turnout was unprecedented and in all the South-Eastern states.
None of the South-Eastern states recorded the number of votes the President had in Yobe where, in the morning of the election, they had bomb explosions in the governor's hometown and government officials went round and started appealing to people to come out to vote. In South-Eastern states for example, I know that the Anglican Archbishop of Enugu was very active helping people. The Catholic Bishop voted and we know where he voted. Everybody came out. Nobody had seen such turnout in the history of the South-East. And what was the summary of the votes? 200, 000; 300, 000 votes while Yobe recorded 400, 000 and Borno 800, 000. That defies logic. The second reason: Rivers State had over three million registered voters but just over a million voted meaning that about two million voters were disenfranchised by the military. Rivers State has more registered voters than Katsina. And Katsina recorded about 1, 200, 000 votes for the winner. To a logical mind, it doesn't make sense.
Also Lagos has the highest number of registered voters in Nigeria with over six million; not even Kano has that, but less than a million voted in Lagos. And in Lagos, certain demographic areas were assaulted and voting didn't take place there. That again isn't logical. Before the election, Mr.President was widely criticised when he ordered security services that anyone that may attempt to snatch ballot-box should be shot on sight. But during the election, we saw ballots not just being snatched, but also burnt in Lagos. In Enugu where I was going to cast my vote, agents of the EFCC were all over the airport searching for those who came with money to induce voters. In one or two cases some people were detained yet bullion vans were found in some places and nothing happened. Ballot boxes were snatched, nothing happened. Suspects were not even arrested not to talk about being shot on sight. There are so many things that you could see that didn't make sense.
I think it is only right for the PDP presidential candidate, Alhaji Atiku Abubakar, to go to court. But everybody has been asking him and the PDP not to go to court! President Buhari went to court many times and lost. Nobody persuaded him not to go to court! Why are people trying to persuade PDP this time not to go to court? When we go to court, it does not matter, the ruling can be that the President won or that he (Buhari) won by a bigger margin. Then the process of going to court has been completely satisfied and then the court would have seen the evidence and the court would say "we agree or we don't agree" and it will be there in the archives and recorded in the court for those judges that took the decision. But this election can only be likened to the landslide victory of Alhaji Shehu Shagari in 1983.
https://newlive.vanguardngr.com/2019/02/breaking-civil-war-feelings-lack-of-hope-difficult-to-erase-jonathan-warns/
So, as far as you are concerned, the presidential election was not credible, fair and violence free.
I never was a fan of Professor Attahiru Jega (immediate past INEC Chairman). I criticized Jega so many times on the grounds that, as a professor, his logic didn't make sense. But all you can say of Professor Mahmood Yakubu is that he is calm carrying out decisions that didn't make sense. He (Prof. Yakubu) cancelled elections on the day of elections, he gave his word of honour that card readers would be used but from what happened, it looked like there were two countries. Card-readers were not used by the beloved but they were used by the tolerated and hated. Once you make a rule, you stick to it. At age 75 I am entitled to my personal view. I don't think that after this I would participate in any election in Nigeria again.
What is your expectation on the supplementary election organized for areas where you had violence and alleged rigging?
The Igbo people have an adage that says if the first child cannot walk, the second child cannot run. Let me paraphrase it this way; if the first child of the presidential election has not worked, how do you expect the governorship election to be improved upon? Sprinting like Wilson Bolt?
Despite your misgivings on the presidential election, how do you react to the international community's sending of congratulatory messages to the President on his re-election?
It is standard practice. The international community cares only about established interest which is to continue doing business and trade in Nigeria. So they cannot cry more than the bereaved. They are not going to fight Nigerians' battle for them. But if the international community's interest is threatened, they will have a completely different story. And where you have countries that are threatened, it adds to their refugee situation and you and will see the international community with a different option. But it is good that there is peace, and Nigerians have shown that there is so much they can tolerate because nobody wants disturbance. I have seen disturbance before. I fought the civil war. I was a combat soldier in the Biafran army when I was supposed to be a final year student at the University of Ibadan, I fled UI. I don't want to see disruption of peace anymore. So what the people want is what the people get.
But do you think the Igbo have been fairly treated under President Buhari's administration?
No! The Igbo have been treated like scrap. But what has gratified me is that the Igbo don't care. During the Jonathan administration, they voted for then-President, they didn't regret it. Now they voted massively again; if it hadn't been adulterated, I don't think that those they are opposed to would have got up to five percent in Igbo land and the Ministers (from Igboland) know it. And whether or not we have Ministers in the next regime or the Chief of the Army Staff among others, the Igbo have voted to show that they don't like the way they are being treated. Some of us are in favour of whatever the Igbo do to show that they don't like the way they are being treated in Nigeria. You don't have to be nice about it when somebody stands on your shoe-curve; you can push the person away violently so you don't let such person injure you. I have said it before, the key thing for Igbo is restructuring, not presidency. Some charlatans and clowns are positioning themselves for Senate presidency and presidency in 2023. Ndigbo don't really care. For Ndigbo like me: 100 x 0 in the presidency = 0, 100 x APC in the presidency = 0 but 1 x 1 of restructuring = 1. At least 1 is better than 0 and Ndigbo has spoken with one voice to other Nigerians that restructuring is a major problem of Nigeria. So those who have ears let them hear.
Was that the reason the Ohanaeze joined other ethnic groups like Afenifere, PANDEF, NEF and the Middle Belt Forum to endorse the PDP presidential candidate?
Yes! I was present at all the meetings and I was also central in it. It was a well reasoned decision. Restructuring is in the best interest of this country. On that basis, the candidate that was talking about restructuring was Atiku Abubakar. So it was not personal, it was business. Restructure, if I am to use the phrase of APC, will take Nigeria to the next level. But without restructuring, we are not getting to any level.
Some Ndigbo called for the boycott of the elections. Is that another way to put this government on its toes?
Boycott doesn't give you anything. For those of us who survived the war, we accepted in 1970 that Nigeria was the option. In fact I refused to go back to the University of Ibadan. I went to the University of Nigeria and most of us wore our military uniform to class. And when General Gowon (then-Head of State) said there was no victor and no vanquished, we were being fed. Some of the beneficiaries of the civil war were non-Igbo. The Igbo had nothing to benefit. I graduated in 1971 instead of 1958. And that was no problem. The following year I got a Commonwealth scholarship, went to Imperial College and by 197 I got my doctorate degree and I came back to Nigeria to teach. So when people talk about Nigeria unity, I tell them it is a settled issue. What is not a settled issue is that some appointments will be going to one family in Nigeria and not to the rest, and that is wrong! You can't have peace without justice. Any people you deny justice cannot be interested in peace. So there is no point boycotting election as election has been boycotted before and it didn't solve any problem.
https://newlive.vanguardngr.com/2019/03/my-preference-for-buhari-personal-mahara-ji/
The 1983 elections' landslide is there. If that is what the APC wants to achieve, they should continue; they can even do worse than that. That is their problem. But God bless a President like the late Yar' Adua. I still believe he was the best President Nigeria never had because he died. He said the election that brought him to office was faulty and he began a process to mend it. And you had the Justice Uwais panel but this one, you had the El-Rufai panel on restructuring, the Ken Nnamani panel on restructuring. All these are mere charades. But whatever anybody does, the records will be there.
What do you then make of the President's acceptance speech, promising to run an inclusive government?
What does he mean by inclusive and carrying everybody along? He doesn't need to carry everybody along because he is not an airplane. When you have the agencies of state, you should make sure they are done in accordance with the diversity of the country. That is why our founding fathers agreed on federation which is the best form. That is why those who did the presidential constitution put the federal character principle. Do you know how it feels when you mention the Chief of the Army Staff, the Chief of the Defense Staff, the Chief of the Naval Staff, the Chief of Intelligence, even the Federal Road Safety Commission and you are not there and they say it is on merit. If you come to my family alone, there are at least eight Nwosu professors in the field of medicine and then you tell me no merit, its gratuitous insult.
What would be your charge to this administration as a way forward?
It is simple, good governance. Good governance starts from good politics. Former US President Bill Clinton said you can't have good governance from bad politics. Politics where an ethnic group in Nigeria is marked out as enemy is bad politics and no amount of good politics can be superimposed on it. Right now, South-South and South-East have been already marked out. So how can you have good governance? But if you come to governance, if economy starts to grow, people will have jobs. Again the judiciary has been battered. Even lawyers don't have faith in our judiciary let alone the common man. If you are a judge and you give a judgment, you have to be looking back to see some officials watching you. So we have to make the system work. Something with the National Assembly, did you not hear that hooded armed men invaded the place? And those people haven't been arrested till now. So we have to respect the rule of law. Professor Timothy Snider has just written what he might have just titled 'Nigeria' but called it 'The Road to Freedom' and then there was an earlier one he called 'Steps to Tyranny'. We were quick after General Abacha descended on us to say no more to tyranny. It is sad but when you are over 75, you are watching out and saying what will become of your children and grand children?