Bamgbola, Kumuyi urge leaders to shun corruption
Lagos – Some clerics on Wednesday called on leaders in Nigeria to shun corruption and immorality in whatever fields they find themselves.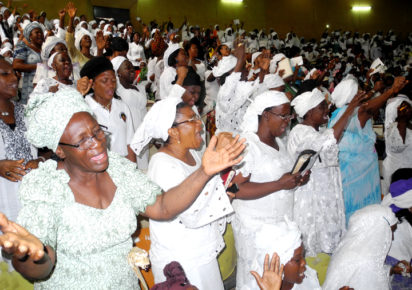 The ministers made the call during the Ministers Development and Networking Summit entitled "Building the Builder'' at Deeper Life Bible Church Headquarters, Gbagada, Lagos.
Apostle Alexander Bamgbola, Chairman, Christian Association of Nigeria (CAN), Lagos State Chapter, said that though taking care of people was challenging, leaders must always strive to do the right thing.
"To be called to oversee men on earth is challenging; it is even challenging for God himself the creator, because it is the highest calling.
"To be called to be servant of God is even higher than being the president because you are responsible for the souls created by God.
"When we have seminars and summits like this, we are preparing ministers of God to do the right thing for God; if we ministers do the right thing, then our nation is going to be a prosperous nation.
"We must keep praying; if not for prayers, Nigeria would have been forgotten, but beyond prayers we must act; we should show good example, we must lead for God, that is what this summit is all about,'' he said.
Bamgbola said for the country to work again, leaders should turn a new leaf and refrain from embezzling public fund.
"We need a new beginning in our nation. This country is filled with corruption; what the church is doing here today is what we need to do in politics, business in all areas of human endeavor in our nation.
"We started well in 1960, but we are still reaping what we sowed; the election of 1959 was a rotten election, so every subsequent election since there has been rotten.
"That is why we are still complaining. Look at the resources of this nation, we need to change; religious leaders, political leaders should have the fear of God. What will anyone do with one billion dollars?
"What are they going to do with the kind of wealth that they steal in this nation; political leaders have been bleeding this nation since independence.
"But they cannot finish the money because God has a plan for this nation,'' he said.
Also, Pastor Williams Kumuyi , General Superintendent (GS) of the Deeper Life Bible Church, said that a godly foundation was essential for healthy spiritual life and ministry.
According to him, ministers of God should renew their vows and retrace their steps to holy and righteous living to excel in ministry.
"For you to build, there must be repentance; ministers should return from the wilderness or from wandering, renew their vows to the Lord, and dedicate their lives totally to God.
"When the minister is trapped in the web of moral pollution, corruption and immoral character, he cannot be a shining and burning example for others to follow.
"The standard of life that God and the people expect from a minister of God is a higher one.
"When members are crumbling under the weight of life's challenges; the minister is expected to demonstrate a high level of rectitude that shows he is a man of worth,'' he said.
No fewer than 2000 clergymen from different denominations across the country participated in the summit. (NAN)