By Soni Daniel, Northern Region Editor
ABUJA—The arrest of key allies of the presidential candidate of Peoples Democratic Party, PDP, Atiku Abubakar, was triggered by the recovery of huge foreign currency worth hundreds of millions of naira from dealers by operatives of Economic and Financial Crimes Commission, EFCC, in Abuja and Lagos, Vanguard learned last night.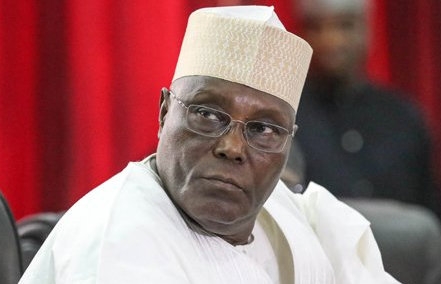 The arrest of Uyi Giwa Osagie, Babalele Abdullahi and other confidants of the former vice president followed covert operations conducted by operatives of EFCC in major towns in the country, ahead of the presidential and National Assembly elections apparently to prevent vote-buying and influence peddling by politicians, according to EFCC sources.
But the first batch of $1.6 million cash that put the Atiku's men into trouble was reportedly taken from Abuja to a market on Lagos Island and dropped with a popular Bureau de Change, BDC, dealer from the northern part of the country.
With cash, crime and drama, Nigeria politics inspire movie makers
Vanguard learned that based on the discovery, EFCC operatives reportedly stormed the market, arrested two BDC dealers, Abdullahi Shehu and Lawal Abdullahi, and recovered the cash only to find that $141,000 had been taken out of it and exchanged at the rate of N358/$, amounting to N50.5 million.
However, it was learned that the balance of $1.49 million could not be changed due to naira scarcity in the market.
An EFCC source said: "Further investigation conducted regarding the ownership and source of the money so far revealed that Hasbunallahu BDC who is also the owner of Clean and Integrity Services received three transfers amounted to $500,000 on February 1, 4 and 14, 2019 from Guernsey Trust Company, which is an investment company managed by one Uyi Giwa on behalf of an unnamed person.
Vanguard learned that EFCC had declined to release the full details of its investigation, but actively preparing to charge a dozen of suspects to court as soon as its men wrap up investigation into the huge money laundered by them.
The anti-graft agency is convinced that the suspects laundered the cash in order to unduly influence and compromise the 2019 elections.
"One of the officials said: "Investigation is still at its early stage and effort is being intensified to unknot all the ties and crack the matter expeditiously".
It was learnt that the agency would soon press charges against the key suspects who laundered the cash in violation of the country's anti-money laundering laws.