By Chris Ochayi
ABUJA—Coalition Against Kajuru Killings, weekend, claimed Governor Nasir el-Rufai of Kaduna State should be held responsible for ongoing attacks by suspected herdsmen militia on Adara communities in Kajuru Local Government Area of the state.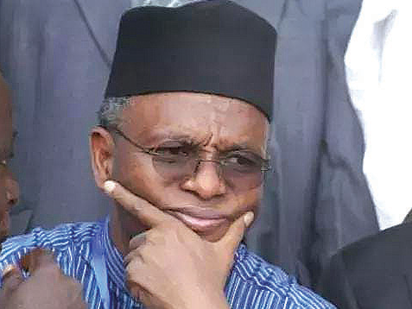 The coalition in a statement by its Coordinator, Rev Fr Williams Abba, in Abuja, traced the renewed killings of innocent people in the areas to the governor's allegations of the killings of 130 Fulani in Adara community.
He recalled that "on February 15, 2019, Governor Nasir el-Rufai on a national television claimed security agencies had recovered bodies of 66 Fulani killed by Adara natives.
"He was later to increase the death toll to 130. The governor's allegations over killings of Fulani is still an allegation that is yet to be proven, as he has neither shown the world the pictures of recovered Fulani corpses nor commenced investigation to prove his allegation.
READ ALSO: Buhari condemns internecine violence in Kaduna
"The Kaduna State Police Commissioner recently debunked the death toll as announced by the governor, insisting that investigation into Fulani killings is still at 'embryonic stage'.
"The allegation by el-Rufai over killings of our brothers of Fulani extraction set the stage for reprisal killings and weaved the labyrinth of insecurity over the besieged Adara communities such as we are currently witnessing.
"Within the space of one month, we have been horror-stricken at the barbaric attacks carried out by these merchants of death against children, men, women, including the aged. Communities have been reduced to rubbles and insecurity now stalks these towns and villages unchallenged."
The group in face of these challenges, however, called on the government to, as a matter of urgency, deploy more security forces into these hinterlands, including consistent aerial surveillance to track down the terrorists and consequently end the carnage.
It also said "government at federal and state levels must muster courage and the political will to halt the incursion of these non-state actors. It is our firm belief that powerful retrogressive forces are funding and supporting these well-coordinated militia, who come in and strike at our sleepy and peaceful communities and retreat without consequences.
"Government should provide adequate healthcare for the wounded, food and shelter for the victims. We plead with agencies of government, especially National Emergency Management Agency, NEMA, and Kaduna State Emergency Management Agency, to make haste and intervene in the humanitarian crisis that has displaced over 10,000, with many others admitted for medical treatment in the state.
"On this note, we want to state unequivocally, that at no time did these communities reject the Federal Government's assistance or made themselves inaccessible to agencies of government.
"We call on the Federal Government to set up an independent commission of enquiry to probe the Kajuru killings, including exhumation of Fulani corpses, if any, in order to bring perpetrators to justice. We cannot allow killers to turn our once peaceful and thriving villages and towns into trenches of warfare.'
Subscribe for latest Videos