By Ayo Onikoyi
JOBA, a faith-based movie produced and directed by top Nollywood filmmaker, Biodun Stephen, will debut in Cinemas on April 5 2019.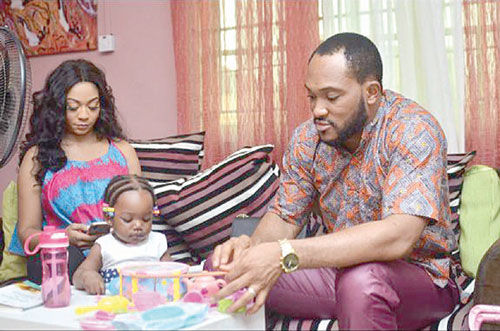 The highly-anticipated movie features Blossom Chukwujekwu, Enado Odigie, Ronke Ojo- Anthony and Christine Osifuye.
Reputed for her amazing storytelling, Biodun Stephen brings another captivating story using vivid relatable life experience to pass a message centered on love, strength and omniscience of God.
NUCFRLANMPE warns firm over unilateral redundancy
The movie is about the travails of a young Christian couple battling between their marriage and faith. The faith of the couple is tried, especially when all fingers are pointed to the husband as the cause of their troubles. He must protect his wife who is on the verge of insanity, whilst still managing to keep his faith. It is a production by Shutterspeed Projects in collaboration with Cross Dimension Production.
JOBA, written by Biodun Stephen, brings an interesting twist to faith-based genre which is fast making a return to cinemas after years of absence. Judging from her previous works –   like The Visit and Picture Perfect that pulled huge cinema crowd, then Ovy's Voice and Ehi's Bitters rated as the best, by audience choice, on iRoko TV in 2017 and 2018 respectively – it will be a delight to see JOBA.
On the story, Stephen says JOBA is a divine story that remains one of her best in a long time.
"I'm very excited and happy about the movie because it's a very special movie for me. I will say the project is divine. I listened to a song by PSALMOS featuring TOPE ALABI and I must have listened to the song over 52 times while driving and when I got home, I knew I had to write something about it. I wrote it and without editing or reading, I finished and went to bed. When I woke up the next morning to read the story, I was amazed, so much that I didn't believe I could have written it. Then I knew I was just a vessel to deliver this message," she said.
The movie, JOBA, hits Cinemas nationwide from  April 5.