By Sam Eyoboka & Olayinka Latona
Vice President Yemi Osinbajo has narrated how the General Overseer of the Redeemed Christian Church of God, RCCG, Pastor Enoch Adejare Adeboye's unusual prayer and God's mercy saved his life and those of 11 other passengers in the helicopter that crashed at Kabba in Kogi State last month.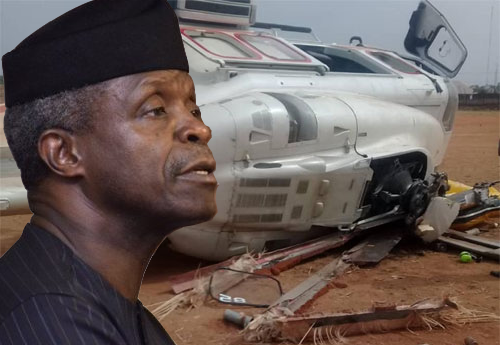 Recall that the Vice President, who took off from the Redemption Camp on the morning of Saturday, February 2, after the Holy Ghost Service, escaped unhurt in the helicopter crash in Kabba, Kogi State. A word of prophecy came during the Holy Ghost Service of the previous night when Adeboye declared that no matter how hard the enemy would try, there would be no mourning in "our families this year."
May God use this election to declare glory on Nigeria, Adeboye prays
Osinbajo, who is the Pastor-in-charge of RCCG Province 45, received a standing ovation when he joined several others to give his testimony at Friday's Special Holy Ghost Service, organised to mark   the 77th  birthday of  Adeboye, declaring that the intercessory prayer saved their lives in the plane crash.
The VP narrated how he came for the February 2, Holy Ghost Service late but after the service, the General Overseer called him and his wife into his office and after asking a few things offered to pray for them.
"On February 2, 2019, I was here for the Holy Ghost Service but I came quite late. After the Holy Ghost Service, I went to see Daddy (Adeboye) in his office and he said he was going to pray for me. My wife, Dolapo, and I then knelt down for the prayer. He said: 'Father I want you to give this my son very special protection'. He prayed again for a special protection and I was beginning to get worried why Daddy was praying about special protection.
"Anyway, later that day, the helicopter I was travelling in crashed at Kabba in Kogi State and all 12 of us that were in the helicopter, all the 12 of us survived without a single scratch",.  At this point, the VP's voice was drowned by the loud ovation of the large crowd of worshippers acknowledging the saving grace of God.
Osinbajo managed to urge the enthusiastic crowd of worshippers that included several politicians and ministers of the gospel, who had come to wish Adeboye happy birthday anniversary, to join him to praise God for the election of President Muhammadu Buhari and himself for second term.