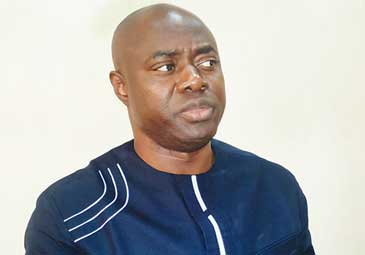 Oluseyi Abiodun Makinde
Ola Ajayi
FOUR days to the gubernatorial and House of Assembly election, some opposition parties have agreed to form an alliance with the Peoples Democratic Party against the gubernatorial candidate of the All Progressives Congress in Oyo State, Chief Adebayo Adelabu.
The parties whose gubernatorial candidates have stepped down for the PDP candidate, Engr Seyi Makinde are African Democratic Congress, Action Alliance, Zenith Labour Party and Social Democratic Party.
Also involved in the merger plans was the Alliance for Democracy, AD whose State Chairman was present at the meeting.
Before the decision for the merger was eventually sealed yesterday in Ibadan, there were series of meetings where the parties had disagreed on the sharing formula of elective positions.
While stepping down, all the gubernatorial candidates of the parties told the mammoth crowd at the NUJ press centre, Ibadan that they had agreed to relinquish their ambitions to pave way for the emergence of the PDP candidate.
The former governor of the state, Otunba Adebayo Alao-Akala who is from Ogbomoso was in the plan before he suddenly announced his defection to APC.
While speaking on behalf others, Senator Lanlehin said, "the coalition agreed to decisions reached thereto, after series of meetings and consultations. Those gathered here, respectable governorship candidates of our various political parties  and others have agreed to form an alliance."
 Senator Lanlehin said, "we have decided that in order to present an effective and workable solution to the unpalatable situation where Oyo State has been remotely controlled for the past eight years by outside forces and all manner of constituted authority, there is the need to form an alliance of political parties in the state".
"We have firmly resolved to present one candidate in the person of Engr Seyi Makinde of PDP for the office of Governor at the elections holding on March 9, 2019."
"In the interest of our thriving democracy, we have also resolved that the House of Assembly elections will be contested on patty basis and all candidates in all the parties are encouraged to go to the polls and contest for the seats available in the Oyo State House of Assembly as scheduled".
The parties called on people of the state to vote for the alliance candidate, Engr Makinde.
All the candidates spoke one after the other.
Makinde said any vote for APC candidate, Adelabu would be tantamount to the third term for Governor Ajimobi.