PREPARATORY to the 2019 National Festival of Arts and Culture, NAFEST 2019, slated for Benin, the Edo State capital, Governor Godwin Obaseki has assured of his full commitment and support towards a successful hosting.
The Governor gave the assurance during a World Press conference organised at the instance of the National Council for Arts and Culture, NCAC, to flag off publicity campaign for the 2019 edition of NAFEST.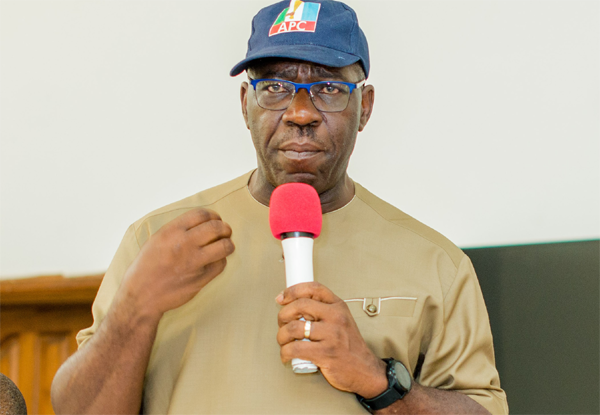 Speaking at the briefing, the Governor who was represented by the Commissioner for Arts, Culture, Tourism and Diaspora Affairs, Edo State, Hon. Osaze Osemwegie-Ero, noted that Edo State is prepared to take on the responsibility of hosting one of the best ever art and culture festivals in the world.
He stated also that culture brings unity irrespective of cultural affiliations, adding that Edo State has what it takes to make NAFEST truly remarkable.
https://www.vanguardngr.com/2019/01/obaseki-to-boost-2019-nafest-with-edo-royalty/
In terms of providing adequate security for NAFEST 2019, he revealed that the state governor is putting a lot of security measures in place.
"We cannot talk about promoting tourism without concern for security. Edo is very safe, we are ready to put a lot of security measures in place before October. Edo is safe and we take security issues very seriously," he enthused.
Delivering his address during the programme, the Director-General of NCAC, Otunba Segun Runsewe said that Nigeria needs cultural diplomacy to curb persistent ethnic clashes in the country.
He noted that NCAC plans to use Edo State to communicate to the whole world that Nigeria is indeed beautiful.
According to him: "There is a new beginning for us to speak for ourselves, enough of the negativity, enough of hearing bad things about us. We must celebrate ourselves and showcase what we have to the world.
"We are going to have a new beginning in Edo State come October 19-26. If we move from one state to the other, there will be less hate speeches, disagreements and more love.
Culture is the secret to make a new beginning for our great country," he said.
The DG emphasised that NAFEST is a demonstration of the critical relevance of culture in forging national unity, peace, mutual understanding and for building bridges of love and friendship across the different ethno-religious divides in Nigeria.
"Indeed, Edo 2019 promises to be unique in all respect. Edo State has a very rich and diverse cultural heritage dating back to several centuries," he remarked.
Speaking further, he revealed that one of the distinctive features of NAFEST 2019 would be a Day of Royal Splendour, adding that the event will be in collaboration with the revered Oba's Palace in furtherance of the centrality of Benin Monarchy to the socio-cultural activities of the state.
He called on traditional rulers in Nigeria to collaborate with the NCAC in the task of reviving Nigeria's cherished cultural heritage and using culture as a springboard for driving the process of national development.
The 2019 edition of the National Festival of Arts and Culture, NAFEST, is scheduled to hold in Benin City, Edo State from 19th to 26th October, 2019 with the theme: Our Royalty, Our Pride.