Gov. Oluwarotimi Akeredolu of Ondo State, on Saturday, cast his vote at 10:25 a.m. in Ijebu 2 Unit 6 Ward 5, Owo.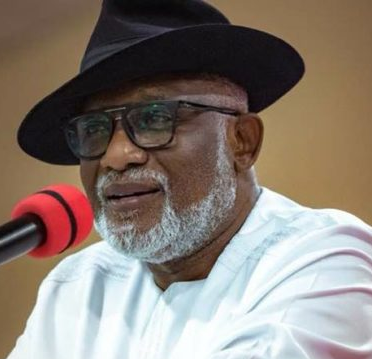 The governor, who spoke with newsmen after casting his vote, advised the National Assembly to find a way of reducing the number of registered political parties to avoid the high number of parties listed in the ballot paper for election.
Akeredolu explained that the high number of parties on the ballot paper made it difficult to find the appropriate candidate and party of choice".
The governor, however, lauded the electorate for their impressive turnout and urged others, who had not voted to come out en masse to vote for candidates of their choice.
READ ALSO: INEC sends out technicians to tackle card readers' challenge in Enugu
"For me, the process is going on fine and the turnout in my unit is impressive.
"If I experience a little difficulty in identifying my party on the ballot paper, it would be more difficult for an illiterate in doing so.
"The ballot paper looks too unwieldy, and I am sure that our National Assembly has to do something about this number of parties that we have," he said.
Miss Omolade Esupofo, the Presiding Officer of the unit, said voting started at 8:03 a.m and was going on smoothly while the materials arrived early.
She also said that the smart card reader was functioning smoothly.
Earlier, Sola Oludipe, a former member of the Ondo State House of Assembly, said he had voted and that the election was going on peacefully in the area.
"It is my joy to be out early this morning, not only to vote, but to also monitor the formations around town and see how prepared INEC is in ensuring that there is a peaceful election in this area.
"So far, with the few places I have visited, elections have commenced in earnest and the environment is very peaceful," he said. (NAN)