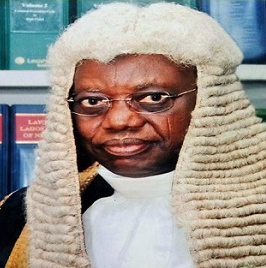 Justice Sidi Dauda Bage
By David Odama
LAFIA – THE new Emir of Lafia, Justice Sidi Dauda Bags has said that his emergence as the 17th Emir of Lafia was an act of God.

Justice Bags stated this in Lafia when he was presented with a certificate by the Chairman of Lafia local government council, Muazu Aminu Maifata in the area.
According to the new Emir of lafia, "I have been ordained to be the Emir of Lafia.
It is not because I am better than others who contested with me, but because it is the will of God for me to succeed my forefathers on the throne", the royal father declared.
He said that his election to lead his people through peaceful means showed that God and his ancestors had hands in the whole processes that brought him out as the 17th Emir of Lafia.
According to him, Nasarawa State is a place for all who cherish peace and we want all to emulate this good gesture as enshrined by the governor, Tanko Almakura and the late Emir, Dr. Mustalpha Agwai. the 1st.
https://newlive.vanguardngr.com/2019/03/benue-gov-ortom-to-set-up-peace-truth-reconciliation-committee-2/
The new who admonished the people of Nasarawa State to live in peace, tolerate one another also charged the people to know that no meaningful development can take place in an environment of rancour, disunity and distrust among.
The 17th Emir of Lafia used the occasion to commend the governor, TankoAl-Makura, all the kingmakers and those who contested with him for ensuring that peace rein supreme in the state, particularly lafia, the state capital.