By Michael Eboh & Ezra Ukanwa
The Federal Government, Fridday, cautioned Nigerians on the dangers of unregulated Genetically Modified, GM, food products, stating that it is capable of stunting Nigeria's economic growth, endangering lives and depriving the country of the benefits of the products.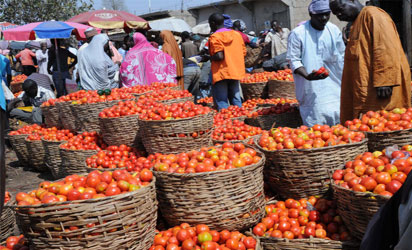 Addressing newsmen in Abuja, Director General of the National Biosafety Management Agency, NBMA, Mr. Rufus Ebegba, disclosed that if modern biotechnology and its products, which are mainly GM organisms, are not regulated, the country environment and food system may be negatively impacted through dumping of unsafe GM products.
He said, "Developers can produce unsafe GM products, flood the market with them and mislead Nigerians that they are genetically modified. Hence, regulating this sector is very key for the development of the economy and the sanctity of safety of GM products in the market.
"Also, Nigeria would not benefit from safe modern biotechnology under a legal framework for economic growth, improved agriculture, job and wealth creation, industrial growth and sustainable environment as operators will not have confidence in the sector; but the nation will instead, be at the receiving end of the countries that have commercialized these crops since they will have free access to Nigeria market unhindered."
Ebegba warned that the absence of a biosafety system would amount to dumping of unauthorized GM into the country and would also adversely affect humans, animals, the environment and the economy.
He insisted that those calling for scrapping of the NBMA were directly paving way for dumping of GMOs in the country, enriching the countries from which these crops are imported, weakening the potentials of Nigerian scientists in this sector and do not have the interest of the public at heart.
He argued that the permits granted by the NBMA for GM products were issued after a rigorous and hectic process, noting that a number of stakeholders are involved in the numerous process of analyzing the applications and review risk management and risk assessment before coming up with a decision.
"The permits so far given were granted after proper risk assessment and analysis were carried out, public display of the application done and the applications duly reviewed by representatives from all sectors of the economy," he noted.
Ebegba disclosed that the commercially approved GM crops globally are cotton, eggplant, corn (Maize), poplar, canola, soybean, flower colour carnation, flower colour petunia, flower colour rose, papaya, PP canola, and potato.
However, he explained that these GM crops were not currently officially in the Nigeria market/environment, while he urged anyone who was in doubt to meet with the NBMA for proper guidance and explanation.
He said, "The agency will continue to ensure that only safe GMOs will be allowed either for planting, consumption or processing in Nigeria as the agency has full structural and human capacity to ensure the safety of Nigerians in the use of genetically modified organisms and application of modern biotechnology.
"The agency is well aware that there are miscreants who are not playing honestly and we are taking proactive steps to ensure that Nigerians are not misled. The agency has never taken any decision in isolation but has always carried the public along."