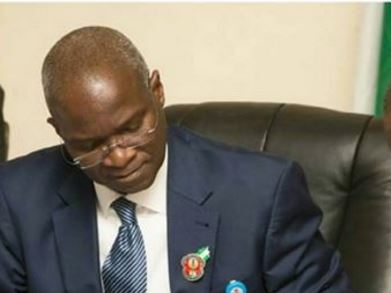 Fashola
By Naomi Uzor
Federal Government has promised to encourage private sector investment for infrastructure development and also removed bottlenecks to economic growth.
Minister for Works, Housing and Power, Babatunde Raji Fashola made this promise while speaking at the  opening ceremony of the 2019 edition of the Manufacturing Equipment Expo (NME) and Manufacturing Partnership for African Development (mPAD), tagged "Optimizing Value Chain to Maximize Growth and Competitiveness in the Manufacturing Sector".
Fashola  said the Muhammadu Buhari led federal government in a bid to create an enabling environment for manufacturing and other businesses has provided basic infrastructure such as roads, power, rail lines and water.
Fashola who was represented by Engr. Ibi Terna, Director, Highways Development, said improved transport infrastructure is expected to improve the time and cost of access to raw materials/finished goods and ensure wider market for the sale of manufactured products.
He said: "However, being aware that public funds are not adequate to provide the desired level of infrastructure due to other competitive demands on public resources, policies have been put in place to encourage the private sector to partner with the federal government in the provision of this critical infrastructure".
https://newlive.vanguardngr.com/2019/03/next-level-budgit-charges-president-buhari-to-prioritize-oil-sector-reform/
"The Federal Government's focus on previously comatose road projects on major arterial routes like the Enugu-Port Harcourt Highway, Apapa-Oworonshoki Highway, Lagos-Ibadan Highway, Kano-Maiduguri Highway, Lokoja-Benin Highway and Kaduna Eastern By pass to mention a few is not accidental; it is targeted at increasing manufacturing capacity and national productivity.   Such projects are now making steady progress towards early completion."
Chairman, Flour Mills Nigeria, John Coumantaros said the topic gave Nigerians an opportunity to look at the seemingly obstinate challenges that they must contend with in the manufacturing sector, including the widening infrastructure deficit, unfavourable policies, dwindling consumer spending, and its attendant effect on our bottom line.
He said: "But on the other hand, we get to evaluate the inherent benefits that may accrue to the sector from the impending ratification of the AfCTFA agreement. In addition, this discussion is coming at a very auspicious time for Nigeria as it once again transits for the end of one civilian administration to another. Following the severe economic crisis, the country suffered in 2015/16 and the recession that lingered afterwards, the country appears to be back on a positive growth trajectory.
"However, for this growth momentum to be sustained, and more importantly, be at levels that would result in the desired transformation of Nigeria's economy to a path of double-digit growth, continued attention must be given to addressing the structural rigidities and other binding constraints that are faced by manufacturing and other sectors."
He said: "The place of an integrated agriculture and manufacturing sector in this regard cannot be overemphasized. Thus, the need to promote the real sector of the economy to stimulate sustainable economic growth that trickles down to the betterment of the populace. The first sector that comes to mind when you review the real sector of any economy is the manufacturing sector given its role in engendering inclusive growth.
"However, the contribution of the manufacturing sector to Gross Domestic Product (GDP) in Nigeria is low when compared to other emerging economies, a development that has been widely attributed to the country's crude oil based, mono-product economy. Hence, there is a need to look inwards to explore ways of increasing the sector's paltry 8.9 percent contribution to GDP."