By Gbenga Olarinoye
Attempts to thwart the hearing of the suits filed by Chief Abiola Ogundokun against Oluwo of Iwoland, Oba Abdulrasheed Adewale Akanbi, suffered a setback as an Osun State High Court of Justice sitting in Osogbo asserted its jurisdiction over the matter.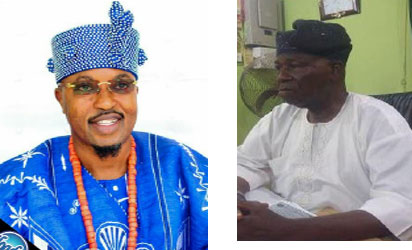 Justice A. O. Ayoola held that the court has jurisdiction to hear, entertain and adjudicate over cases of alleged unlawful removal of Chief Abiola Ogundokun by Oluwo Adewale Akanbi as the Bashorun Musulumi of Iwoland, which was bestowed on him by the Council of Clerics of Iwo, OlaOluwa and Ayedire Local governments as well as Obanla of Iwoland, respectively.
In her ruling, the trial judge said after careful examination of the preliminary objection, affidavits, written address as well as motion of objection, counter-affidavits and written address by the counsel to the respondents and plaintiff, the court dismissed the preliminary objection of Oluwo challenging the competence and jurisdiction of the court.
According to the trial judge, "the subject matter is within the jurisdiction of Osun State and the case came within the provisions of the State High Court as enshrined in section 272(2) and 251 of the Constitution of the Federal Republic of Nigeria, 1979 as amended."
She added that "it is a case of the principles of law where there is offence, there must be the remedy.
"Both the plaintiff and defendants as well as others involved are all Muslims, but nothing presupposes that their relationships should be regulated by Sharia Islamic laws.
"There is no sharia court in Osun State and the plaintiff is complaining of illegal removal and not contending appointment, an installation which the Chief Laws of Osun State refers to."
It would be recalled that Counsel to Oluwo of Iwo land, Oba Abdulrasheed Adewale Akanbi, Barr. Laide Yekini had filed a motion of preliminary objection that the trial Court has no jurisdiction saying the case can only be handled by Sharia Court.
This motion was backed with an affidavit and written address asking the court to strike out the case. He also cited three cases in support of his arguments.
However, counsel to Chief Ogundokun, Soji Oyetayo, in his counter-motion filed and argued before the court backed with the affidavit and written address said there is no Sharia Court in Osun State, where parties can ventilate their grievances. He cited the case of the Chief Imam of Ila-Orangun which the Court of Appeal directed the State High Court to try.
He added that the authorities cited by the defence counsel have to do with appointment and installation of minor chiefs and not about the complaint of illegal removal.
He submitted that the cited authorities are not applicable in this case. He, therefore, urged the court to dismiss the case and allow the case to go on trial.
The court has adjourned the substantive hearing of the two cases till May 9.