By Anthony Ogbonna
Some Ad-hoc staff members of the Independent National Electoral Commission, INEC, in Lagos state have refused to move an inch or commence electoral processes in the ongoing governorship and state houses of assembly elections over alleged unpaid allowances.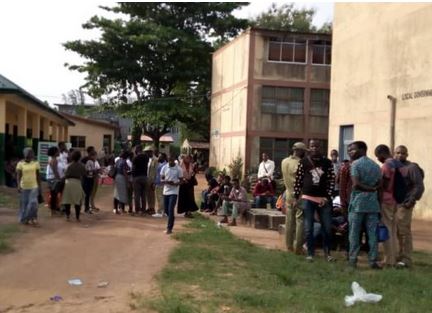 The Ad-hoc staff members were supposed to distribute voting materials in 25 wards in Ikeja local government of Lagos state but refused to do so, saying "No pay, no work!"
The Ad-hoc staff members, many of whom are corps members of the National Youths Service Corps, NYSC, at Government Primary School, Ikeja, said except they are paid N20,000 they were meant to collect,  that they will not proceed to their polling units to commence voting process.
According to one of them,"No pay, no work! We won't move out from here except the N20,000 due to us are paid in full. We received N7,000 alert but we are not ready to be taken for granted again like they did during the presidential election."
The INEC Supervisory Polling Officer (SPO) said although N7000 was paid to each of the corps members, that she has nothing to do about the matter.
"We have distributed materials since yesterday evening. But they are insisting that they won't move to the field to commence polling.  What can I do?  Where am I going to get the N20,000 each which they are demanding?"