Abuja – The Buhari Media Organisation (BMO) says a decline in inflation rate to 11.31 per cent in February indicates that the economic policies of President Muhammadu Buhari are succeeding.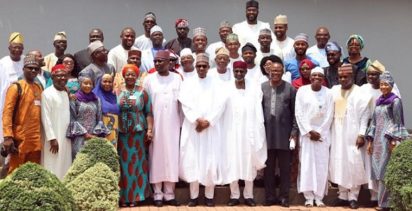 The group made this known in a statement jointly signed by its Chairman, Mr Niyi Akinsiju, and Secretary, Mr Cassidy Madueke on Tuesday in Abuja.
The statement said that latest fall in inflation rates, the third in the last six months, had put more money in the pockets of Nigerians as they paid less for more consumables in their households.
It noted that continued downward trend of inflation rate in Nigeria from an annual average of 12.46 per cent in 1996 until now at 11.31 was indicative of the impact of the policies of President Buhari.
"The falling prices of food in particular, affirm that the drive to boost agricultural production in Africa's biggest democracy is yielding the desired results, especially the attainment of 98 per cent sufficiency in domestic rice production," the statement said.
BMO also said that the findings by the National Bureau of Statistics that the year-on-year food price level declined by 0.04 per cent to 13.47 per cent in February.
It added that the price level decline testified to the efficacy of the economic diversification drive of the administration in which the boosting of agriculture was a key pillar.
The group said that farmers' access to high quality seeds and other agricultural inputs with price support from the government through the Anchor Borrowers Programme (ABP) for dry season farming had boosted yields from irrigation farms.
https://www.vanguardngr.com/2019/03/oboh-congratulates-buhari/
"The promotion and support of aquaculture to bolster domestic food production and the availability of inputs for fish-food production contributed in the downward trend of fish and other food prices,''it said.
It also said that Figures released by the NBS indicated that both the annual and monthly core sub-indices declined to 9.8per cent and 0.65 per cent in February from 9.9 per cent and 0.81 per cent in January.
The BMO that the decline was mainly caused by a reduction in the prices of household appliances and materials.
According to the group, the exceptional decline in the various elements of overall inflation, in spite of huge spending in a highly competitive election season, was attributed to the sound economic and fiscal policies of President Buhari.
https://www.vanguardngr.com/2019/03/deploying-military-setback-to-electoral-reforms-labour/
"The mopping up of excess liquidity in financial sector by CBN in order to reduce the amount of Currency in circulation and control inflation, contributed in achieving the goal of taming the monster of inflation," it said. (NAN)