Stories by Lawani Mikairu
The Minister of State, Aviation, Sen. Hadi Sirika in this interview, takes a  look at how the Nigerian aviation industry has fared in almost four years of President Muhammadu Buhari. He said that the construction and commissioning of new terminals, acquisition of navigational aids and the recent payment of gratuities and pensions of the former national carrier, Nigeria Airways remained unprecedented in the annals of the industry. Excerpt:
When asked to assess the performance of the Buhari administration in almost four years in the Nigerian aviation industry , the minister said: "  As you know, aviation as a globally-regulated industry; any lapses in one state is clearly monitored and exposed by the others. In Nigeria under the present administration headed by President Muhammadu Buhari, many achievements have been recorded in the sector and these are verifiable. To succinctly put it, aviation achievements under President Buhari are unprecedented. They are not hidden.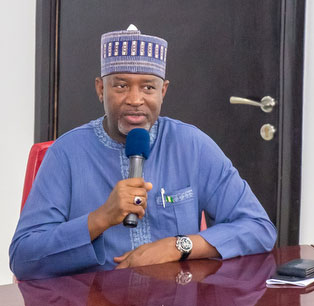 "One of the major achievements of this administration is the sustenance of safety, which has been phenomenal. It is on record that since this administration came on board, there   has not been an accident to commercial airlines and this has further boosted and restored confidence of the flying public. However, this achievement would not have been attained without the strong regulatory function of the Nigerian Civil Aviation Authority (NCAA). Under this present administration, the country's air travel has enjoyed huge safety record, which is tremendous.
"The Ministry has recorded significant achievements in virtually all aspects of the sector in the past three years as follows: Growing and Sustaining the Domestic Aviation Industry; Re-introduction of zero import duties on aircraft, engine and introduction of same for spare parts. Intervention to rescue Arik Air and Aero Contractors from total collapse is another milestone, which would have led to the demise of the two airlines and cause huge loss of jobs by professionals in the sector. The two airlines are today still in operation, under receivership.
https://www.vanguardngr.com/2018/11/nigeria-air-i-cannot-be-found-guilty-of-financial-misappropriation-sirika/
"Just last December, this government, through the approval of President Buhari, paid 50 per cent of severance and retirement benefits to 5,966 staff of the former national carrier, Nigeria Airways. The beneficiaries even held a 'thank you' rally to appreciate President Buhari for walking the talk. You will recall that the airline was liquidated in 2003 and since its liquidation, several ministers and governments in this country refused to pay their severance packages, which I think was bad for the system. You don't treat your citizens bad and expect the younger ones to put in their best into the system, but President Buhari ensured that they were paid part of their benefits. I can however assure you that the remaining balance would be paid as promised.
"Besides, this administration has ensured a safe and competitive aviation industry resulting in the growth of the sector. The sector recorded an average growth of 33 per cent on domestic operations and 13.5 per cent on international operations between January, 2017 to June, 2018. This is also unprecedented in this country.
"Also, we provided the enabling environment for domestic airlines in the country to attain certification in the IATA Operational Safety Audit (IOSA). Currently five Nigerian domestic airlines have Certification, while we also designated some of them for international operations.
"On Safety and Security in the sector in the past three years, Sirika said :  "The certification of Murtala Muhammed International Airport, (MMIA) Ikeja, Lagos in April, 2017 and Nnamdi Azikiwe International Airport, Abuja in November, 2017 was a milestone and the first ever Airport certification in Nigeria for that matter.
"Let it be known that the certification of the two airports by NCAA placed Nigeria on the pivotal of aviation on the continent as no country in Africa has two of its international airports certified. Also, the certifications of Kano and Port Harcourt Airports have reached advanced stages and would be achieved this year.
"Also, this administration promulgated the new Nigerian Civil Aviation Regulation, which took effect in July, 2016. Nigeria achieved an effective implementation level of 67.36 per cent during the recent International Civil Aviation Organisation (ICAO) Universal Safety Oversight Audit Programme carried out in March, 2016, which is above global average of 63.54 per cent. Nigeria also recorded 96.45 per cent in ICAO Universal Security Audit.
"In the areas of State Safety Programmes, Nigeria has attained Level 3 out of 4 levels, thereby moving Nigeria from red to green on the ICAO dashboard. In line with ICAO and WMO standards, in July 2017, the Nigerian Meteorological Agency acquired ISO 9001 2015 certificate, which qualifies it to offer aeronautical meteorological services. The agency became the first in Africa to be so certified in that category".
On What   the administration has done in the area of navigation aids across the airports, he said : "We have completed the Kano Tower Automated Air Traffic Management and Meteorological Systems, installed the Instrument Landing Systems (ILS) Category II (CAT II), Doppler VORs (DVORs), Distance Measuring Equipment (DMEs) at four airports; Lagos, Kano, Port Harcourt and Kaduna completed, while that of Minna, Jos, Yola, Maiduguri, Benin and Akure are still on-going and nearing completion.
"You will also recall that almost two years ago, the Nigerian Airspace Management Agency (NAMA) Installed CAT III Instrument Landing System in Lagos and Abuja, which has helped in great deal to improve operations during inclement weather conditions. Also, we have installed the Very High Frequency (VHF) radios for aerodrome and approach air-ground communication in 18 airports nationwide. The airports are Maiduguri, Enugu, Jos, Calabar, Yola, Ilorin, Sokoto, Lagos, Kano, Abuja, Port Harcourt, Ibadan, Zaria, Katsina, Owerri, Yola, Calabar and Kaduna.
"Besides, we have installed the high power Very High Frequency (VHF) stand-alone radios in Lagos and Kano Area Control Centres (ACC) as backup for air – ground upper airways voice communication and we also embarked on the deployment of Controller-Pilot-Data Link Communication (CPDLC) in Lagos and Kano to enhance communication in the oceanic region and the remote areas of the north.
"Commencement of Aeronautical Information Management Automation Project, which comprises a network of 26 VSAT facilities at all Nigerian airports as well as Search and Rescue (S&R), with coordination domiciled in Lagos. This will enable Nigeria to comply with the mandatory transition from Aeronautical Information Service (AIS) to Aeronautical Information Management (AIM).
We also developed and published Performance-Based Navigation (PBN) Procedures   for 18 airports across the country and also introduced Standard Instrument Departures (SIDs) and Standard Arrival Routes(STARs) at Lagos, Abuja, Kano and Port Harcourt as an improvement on the procedures", Sirika added.