…as it holds 43rd AGM
By Osa Mbonu-Amadi
In the event that oil dries up in Nigeria, what happens? If Otunba SegunRunsewe, D-G of National Council for Arts and Culture, were to answer the question, he will tell you that culture is Nigeria's new oil.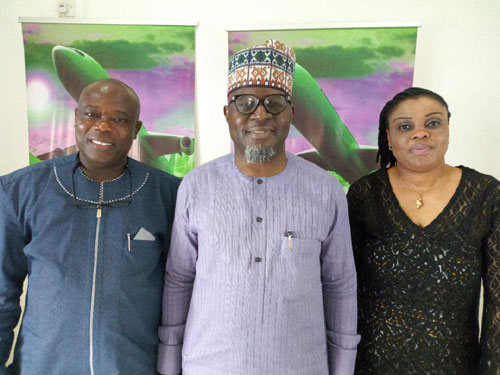 But last Tuesday, during a press conference in Lagos announcing the 43rd AGM of the National Association of Nigeria Travel Agencies (NANTA), President of the association, Mr. Bankole Bernard; First Deputy President, Mrs. Susan Akporiaye; and Financial Secretary, Mr. DaisiOlotu, provided a seemingly different, and yet related answer, to that important question.
They all agreed, as many informed professionals inside and outside the travel and tourism industry do, that as many countries that do not even have half of what Nigeria has thrive on travel and tourism, Nigeria's economy has the capacity to be sustained by the travel and tourism industry.
Both OtunbaSegunRunsewe and the principal officers of NANTA are on the same page – Arts and Culture is the main driver of travel and tourism!
How culture can bolster Nigeria's unity, development — Runsewe
But there are challenges and obstacles to surmount before Nigeria arrives in the Promised Land of an economy sustained by travel and tourism. One of those challenges is getting government to make the right travel and tourism policies and strengthen and implement existing ones.
Questions on the issue of taking away the government taxes by issuing flight tickets outside the country and taking passengers here also cropped up and were addressed: "We used to have what we call Billing and Settlement Plan (BSP)," said the President, Mr. Bankole, "then IATA introduced what we call New Generation of IATA Settling System (NGISS) different from BSP, which kicked off this year. So we saw that there is a vacuum that can lead to total exploitation in our industry.
"Immediately we saw that, we had a meeting with Nigeria Civil Aviation Authority (NCAA). They too have seen it. So we are trying to close the gap to ensure that more attention is given to the local law to quickly protect it, which is in the NCAA Act. It recognizes NANTA as the umbrella body of all travel agencies in Nigeria. That means it will be difficult for all those malpractices of taking away the government taxes by issuing ticket outside the country and taking passengers here (to exist); it is going to minimize it to the barest minimum.
"So our engagement with NCAA will bridge that gap and make things a lot better…NANTA is working closely with NCAA on this to ensure that we will not have an exploitative position. And the DG of NCAA will be coming to do a lot of talk in this regard at the AGM. He is the keynote speaker."
"Policies are not lacking. What is lacking is the sincerity of purpose in implementing those policies," said FrankMeke, a travel and tourism media consultant who compeered the media briefing.
And of course, issues relating to enactment and implementation of appropriate policies are expected to be on the front burner during the 43rdAGM of NANTA scheduled to hold on 27 March 2019 at the MUSON Centre, Onikan, Lagos with the theme, "Developing Strategic Policies for the Sustainability & Growth of the Travel and Tourism Industry".
A local content law is important. It is possible for an agent to stay in London, for instance, and be selling Lagos ticket. Those tickets are far cheaper. Nigeria will lose revenue if this continues. When this happens, passengers board aircrafts here without paying taxes.
Also addressing the same issue, Susan Akporiaye, 1st Deputy President said, "on what liaising with government has done, the policies are there but it is the enforcement that is the issue. Now, even though there is a lapse, we have seen the lapse and it is our involvement with NCAA that they are now waking up to their responsibility. Initially you would think there is no policy that could regulate and bring the entire market together. Until we went into digging and investigating in NCAA, and we found out that these policies are actually there. And because they are there, we brought them back to their attention. So it has given them a wakeup call.
Mrs. Akporiaye also disclosed that Arik Airline, as partner, is always there for NANTA, and they are in the forefront supporting this AGM as they have been doing. She said Ethiopian Airline too, which NANTA had wanted to give an honorarium representation at the AGM because of what happened to them(to our surprise) said no, that they still want to be part of the event fully in partnering with us and sponsoring the event. The GDS, South African Airline, UBA, Leadway Insurance and other companies are also involved.
Mr. Bankole also mentioned the introduction of the Nigeria Travel Practitioners Identification Card (NTPIC) to check impersonation and counterfeits. "Then on the ID card compliance, I would say we have had about 20 to 30 percent compliance. And the reason why it has been like that is, you know Nigerians, until you make something a force, they will not comply. And a lot of them are reluctant."
He said members are reluctant because"we have tied the ID card to BVN… BVN is the best we can put to the issuance of ID card because in BVN, they have taken your finger prints." He said NANTA does not want a situation whereby members will be coming to change their names as many times as they wish.
DaisiOlotu, Financial Secretary of NANTA also contributed, saying, "If you look at travel agencies in Nigeria, and look at the number of people being employed in this sector, if care is not taken the number will be reducing…so we are calling on government to look at the local content law for us not to lose out, despite the fact that we don't have a national carrier. But before we get this national carrier, something must be done to arrest that situation."
Ijaw youths write Buhari over disregard for local content law
Expected at the AGM are Alhaji Lai Mohammed, Minister of Information and Culture; OtunbaSegunRunsewe, D-G, National Council for Arts & Culture; Mr. Folorunsho Coker, D-G of Nigerian Tourism Development Corporation (NTDC); Captain Muhtar Usman, D-G, Nigerian Civil Aviation Authority (NCAA); The Emir of Kano and the Oni of Ife are also expected to grace the AGM.
The president also stated that the 43rd AGM of NANTA is not an elective AGM but "it will be unique. It aims to draw government's attention to tourism which is a huge foreign exchange earner. We don't see why Nigeria can't be sustained by tourism. As an association, NANTA is trying to position itself for the next level. Government is in agreement that the era of oil is gone. Government officials are invited for input into policies. If the policy is unfavorable we must take steps to point that out. Policy is crucial."
An awareness walk scheduled to start from the Lagos State Secretariat to Ikeja Round About, back to the Secretariat will hold a day before the day of the AGM.