By Egufe Yafugborhi
Special Adviser to the Governor of Rivers state on Infrastructure, Barr. Otonye Briggs has said over 35 persons were lost to the Presidential Election Day killings involving the Nigerian Army and thugs in Abonnema, Akuku Toru Local Government Area, Rivers state.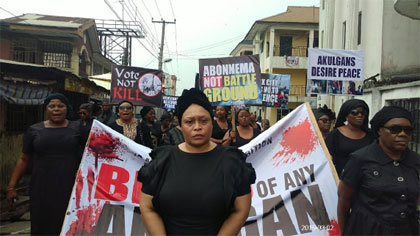 Briggs was apprehended by soldiers at about 7 am from his Abonnema hotel place before he could cast his vote on the March 9 governorship election and has been through the military to police detention till he was released last week on a court order.
The Army who lost a Lieutenant in the Abonnema election violence declared killing six persons in the incidence, but Briggs in a statement alleged that the soldiers "with a known criminal collaborator killed more than 35 indigenes and strangers living in the community."
https://www.vanguardngr.com/2019/03/wike-to-army-investigative-committee-interference-of-army-in-2019-elections-worst-in-nations-history/
He further said, "Abonnema was in such mourning that the people and Chiefs had to hold a memorial service which took place 6th March at the Nyemoni Lutheran Church, Abonnema.
"It is sad that the Amayanabo of Abonnema and the Council of Chiefs were compelled to summon APC and PDP politicians March 7 to a peace pact against a repeat of February 23 mayhem, and only PDP attended and signed the peace pact. APC bluntly refused maybe because they were planning more evil.
On the ordeal in military and police custody over his arrest, Briggs said, "I was moved to 130 Battalion, Harry's Town, Degema LGA, before being whisked to the 6 Division Nigeria Army, Port Harcourt. I was detained till the following day, deprived of voting and duty as a collation/returning agent of the PDP for the governorship.
"The following day, being 10th March, the military moved me to the 6 Division, Bori Camp, detained in their dungeon till 19th March when I was bundled to the Special Anti-Robbery Squad, SARS, Port Harcourt for no justification.
"Irrespective of being brutalised, tortured, humiliated and treated like a common criminal by my tormentors, I will continue to stand for the truth at all times. Politics is not done or die affair. Politicians should eschew intimidation and killings to allow the people's votes count."