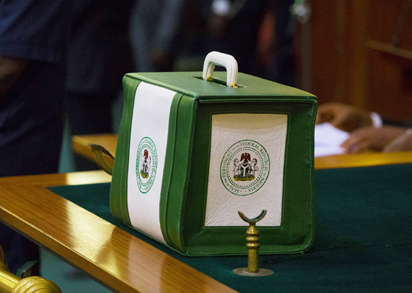 Warns that the Budget Proposals will be passed if the Ministers fail to defend Budget Estimates
As Appropriation Bill Scales Second Reading, Referred to Committee on Appropriations, Committee given two weeks to report Back
By Henry Umoru
ABUJA- AHEAD of the defense of the 2019 Appropriation Bill of N8.83 trillion presented before the National Assembly by President Muhammadu Buhari, the Senate Tuesday warned the Ministers and heads of Parastatals against traveling outside the country, thereby jettisoning the process.
According to the Senate, this was not the time for them to travel against the backdrop that time was not on the side of the Senate.
The Senate Tuesday resumed debate on the general principles of A Bill for an Act to authorize the issue from the Consolidated Revenue Fund of the Federation the total sum of N8,826,636,578,915, which was was read the Second Time and referred to the Senator Danjuma Goje, APC, Gombe Central led Senate Committee on Appropriations to report in two weeks.
The Committee on Appropriations was asked to complete work on the document in two weeks, with a strong warning to go ahead and pass the budget where any minister refuses to appear before the Senate for budget defence.
Speaking after the Appropriation bill scaled second reading, the Senate President, Dr. Bukola Saraki said, " I thank all our colleagues who contributed to the debate on the principles of the 2019 Appropriation Bill. As stated by all, there is still a lot of work that needs to be done concerning the issue of the actual capital expenditure.
"There is a need for us to continue to plug the leakages and independent revenue. The most important issue now is for us to see how we can complete the process.
"I want to make a strong appeal to all members of the Subcommittees on Appropriation to ensure that you all immediately start receiving presentations. As I say that, all Ministers, Heads of Agencies and Department should ensure that they promptly attend when they are called in so that there will be no delays coming from them.
"Ministers and Heads of MDAs should know that this is not the time to travel. This is the time to be around. Because of the short timeframe, Distinguished Senators should let us know of any MDA that you have called for presentations who have not attended for one reason or the other, so that this can be done by the 2nd of April when we hope to consider the final Report by the Appropriation Committee."
Earlier I in his contribution, Senator Enyinnaya Abaribe, PDP, Abia South said, "With a total debt service of 25.7% and capital budget at 23%, it means we are paying more debt. This is a budget of impossibilities. Out of every 1 Naira, 68kobo is paid out. The Federal Government needs to go back to the drawing board."
On his part, Senator Mao Ohuabunwa, PDP, Abia North said, "We are consolidating poverty. We need to really look at this budget. Instead of reducing, we should 'jack up' the budget by 10 trillion. What can 2 trillion do when we have on going projects. We need to block leakages and ensure taxes are collected and put into good use in the economy such as the Basic Health Fund which Senate President, Dr. Abubakar Bukola Saraki started."
https://newlive.vanguardngr.com/2018/11/read-nigerian-senates-proceedings-of-november-7th-2018/
Also contributing, Senator Ben Murray Bruce, PDP, Bayelsa East said, "The budget is not different from what we have been presented in the last 4 years. Recurrent expenditure of 4 trillion is too high. There are government agencies set up that have no value. These agencies must be scrapped. The Federal Government needs to embark on an immediate deregulation."
Also contributing, Senator Sabo Mobammed said, "In developed countries, economies are powered by loans. We are one of the least indebted economies in the world. My suggestions are centered on 2 areas; these are agriculture and industries. There is a need to look at agricultural practices especially in the private sector."
"On his part, Senator Matthew Urhoghide, PDP, Edo South said, "We must have revenue in place to meet capital expenditure. The Fiscal Revenue Act put in place to check budgets was not implemented in the past. We need to ensure the common wealth of Nigerians is taken seriously. If we must pass this budget, let us be born again in implementing this budget."
In his contribution, Senator Borrofice Ajayi, APC, Ondo North said, "The attention to science and technology in the budget is inadequate. The economy without domesticating science and technology would spend 10 times more."
On his part, Senator Jide Omoworare, APC, Osun East said, "So much money can be made if value added tax is decentralized. Value added tax has the potential to make 1.3 Trillion for Nigeria per annum."
https://newlive.vanguardngr.com/2019/01/2019-budget-dogara-tasks-lawmakers-on-speedy-passage/