… ballot snatching in Rivers, vote buying in Kogi
By Levinus Nwabughiogu &Victoria Ojeme
ABUJA-An election observer group, YIAGA Africa has decried the arrest and detention of accredited observers in Kaduna State during the Saturday Presidential and parliamentary elections in Nigeria.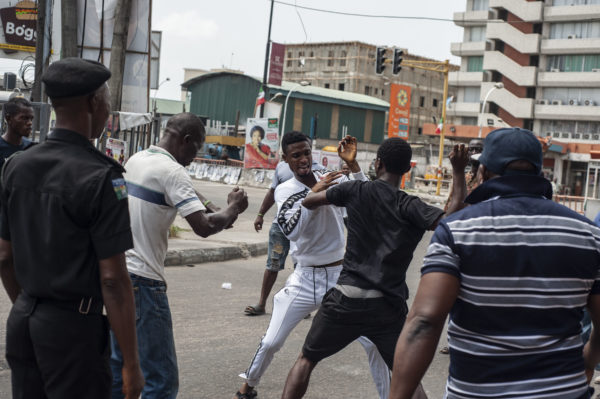 The group also said that it received reports of snatching of elections materials in Rivers State just as it also raised alarm on vote buying in Kofi State.
It also hinted of access denial to some polling units in Yobe State.
Briefing Journalists in a preliminary report on Saturday in Abuja, the group which stated that it deployed 3,906 observers through out the country also said that its supervisor was arrested and detained in Kafanchan, Kaduna State.
https://www.vanguardngr.com/2019/02/two-apc-chieftains-shot-dead-in-rivers/
Represented by its scribe, Dr. Hussein, the group said: "As of 12:00 am, the YIAGA AFRICA WatV Data Center had received 110 verified critical incident reports primarily concerning the late opening of polls. Of additional note are arrest and detention of accredited observers. In Kafanchan, the YIAGA Africa supervisor was arrested and detained at the Kafanchan Area Command in Kaduna State. This was however resolved as the observer was later released.
"Observers not allowed to observe. YIAGA Africa received reports from one polling unit in Yobe State, Machina Local Government Area, Damai Ward where observers were denied access to the polling unit to observe. YIAGA Africa is in contact with local authorities and continues to follow the situation closely.
"Election materials were reported to be snatched by unknown persons at RAC centre in Okirika LGA, Rivers State which led to no voting in ward 06,07,08 and 09 of Okirika LGA in Rivers State. This was reported in PU 003 ward, 10 Emohua LGA, Rivers State.
"Reports of vote buying in PU 010/01/10/13 Omala LGA in Kogi State."
https://www.vanguardngr.com/2019/02/what-we-observed-during-elections-voters/
The group however noted that there was a huge turnout of voters during the elections.
"YIAGA Africa commends the Nigerian people for their resilience and commitment to vote in this election. We urge voters to remain patient and vigilant to ensure their votes count."