By Peter Duru
The Middle Belt Forum, MBF, disclosed on Tuesday that it is supporting the presidential candidate of the Peoples Democratic Party, PDP, Alhaji Atiku Abubakar because he had exhibited the intellectual and mental capacity as well as the vitality to address the security challenges in the Middle Belt and the entire nation.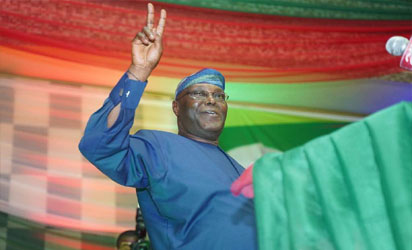 The MBF also noted that the stand of the PDP candidate on the issue of restructuring the country was also a major factor that influenced their decision.
Addressing the media in Makurdi, President of the MBF, Dr. Pogu Bitrus observed that the PDP candidate gained the confidence of groups like the Pan Niger Delta Development Forum, PANDEF, Afenifere, Ohanaeze Ndigbo and the Northern Elders Forum and majority of the people because of his pan Nigeria disposition.
Dr. Bitrus further said "the pan Nigeria adoption of Atiku Abubakar was based on a dispassionate assessment of the candidates of the two major political parties, President Muhammadu Buhari of APC and the PDP candidate.
"One major consideration for us in this election is the security of lives and properties of the peoples of the Middle Belt region. It is no secret that in the close to four years of Buhari led administration, the entire Middle Belt has been turned into a vast killing field.
"According to Amnesty International, 1,814 people were killed across 17 states in Nigeria within 6 months in 2018. In the year 2017, 894 deaths via killings, was recorded. Within the first 4 months of the year 2018, 801 persons had been murdered in the Middle Belt alone.
"The primary responsibility of government as enshrined in Section 14(2) of the Nigerian Constitution, 1999 (as amended) is the protection of lives and property. The Buhari-led administration has failed woefully in that duty hence endangered the entire Middle Belt region.
"We therefore had no hesitation in rejecting him as a candidate deserving of our support in the forthcoming presidential election because the election is crucial and very critical to the survival of the peoples of the Middle Belt.
"It will determine whether the onslaught on the region will continue for the next four years or whether the people will receive succour from the federal government of Nigeria."
Subscribe for latest Videos