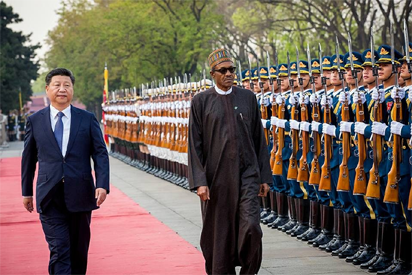 President Buhari and his Chineses counterpart XI Jinping, inspecting a guard of honour in China
By Nwafor Sunday
The Chinese government has, Thursday said that it would support Nigeria to manage its own internal affairs without any interference.
In statement disclosed by Femi Adesina, media aide to President Muhammadu Buhari, the Chinese Foreign Ministry Spokesperson Geng Shuang, was alleged to have said the following; "We have noted the relevant situation. The Chinese side hopes and believes that Nigeria's presidential and parliamentary elections will be held successfully and smoothly.
PDP to Nigerians: Vote and reclaim your great nation
"I would like to point out that Nigeria is an important country in Africa. Peace, stability and development of Nigeria serve the interests of the Nigerian people, the region and Africa at large.
"China always stands for the principle of non-interference in other country's internal affairs. We believe the Nigerian government and people are capable of managing the relevant election affairs."