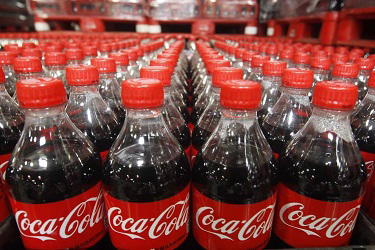 Coca-Cola to use river water for production in India
By Princewill Ekwujuru
Nigeria in the past 10 years has recorded over 26 mergers & acquisition (M&A) exercise, the latest being the acquisition of Chi Limited by Coca Cola.
The total value of M&A transactions in Nigeria is over N500 billlion, according to analyst estimate, excluding some fringe mergers and acquisitions. Merger is a deal to unite two or more existing companies into one new, bigger company.
There are several types of mergers and reasons companies embrace   mergers. Acquisition is part ownership of a business or total ownership of a business.
Most of the companies that participated are quoted on the Nigerian Stock Exchange, NSE.
SKYE BANK: Lucky depositors, disgruntled investors and beguile public
They range from the Conglomerates sub-sector to Insurance, Banking, Packaging, Healthcare, Textiles, Food & Beverages sub-sectors as well as Oil & Gas (Petroleum Marketing) sub-sector.
Examples include the acquisition of ConocoPhilips, COP at $1.55 billion by Oando Energy Resources, OER, a subsidiary of Oando Plc now 11 Plc. The acquisition of Mainstreet Bank Limited from Asset Management Corporation of Nigeria, AMCON by Skye Bank Plc for a total consideration of N120 billion and Polaris Bank acquisition of Skye Bank.
Others are the acquisition of 25 per cent share in Insight Communications by Redefini, a French advertising firm; Access Bank acquisition of Diamond Bank;  Teleology acquisition of Etisalat for $301million, now 9mobile;   and Nigeria Breweries Plc acquisition of Consolidated Breweries.
Vanguard Companies and Markets, C&M investigation also show that official data on M&A between 2017 and 2019 indicated that three mergers and 21 acquisitions were consummated.
However, the Coca Cola acquisition of Chi took the public by surprise, despite the fact that the former had bought 40 per cent of the latter's shares, with a promise to conclude the final acquisition in three years time, but to the chagrin of distributors and consumers, the deal came earlier than expected.
Expert speaks
Managing Partner of Rocks Resources, Bruce Akuwara said: "Monopolies give terrible business advantages that do not benefit any free economy. These days, there are cut throat and tough financial times fraught with crumbling turnovers, dwindling profits, uncertain economic policies and upheavals. And competitors are wooing what little precious clientele they can barely hold on to, with mouth-watering offers that would be particularly ridiculous to   lose, a deal is struck. In this cut-throat commercial environment we find ourselves, the time may have come for you to consider a not-so-novel, more aggressive business tool to ensure your enterprise stays ahead of the horde, particularly as new competition now seems to practically sprout by the day."
Okwy Odinga of the same company quipped,:"Mind you, some of the mergers and acquisitions are not as a result of poor performance. Some entrepreneurs grow a business to a certain level, decide to sell it and move into another business. Sometimes it may not be necessarily as a result of tough financial times or crumbling turnovers or dwindling profits.
"There will be more M&A in the next three years if the economy continues in the trend its heading. As at the last eight to 10 years, M&A transaction is well over N500 billion,"  said Rufus Adingba of Veritas Consult, Lagos.
Distributors speak
Majority of the distributors that spoke to C&M were excited with the deal, they said the acquisition will further strengthen the activities of the beverage giant by evenly distributing Chi brands especially to the hinterlands.
According to a Manager in one of the superstores in Ikeja who pleaded anonymity: "The coming together of both companies signifies a great advantage for both brands. This will help strengthen the presence of Chi brands in the hinterlands. What this means to us is more great brands to boost our profit in the coming years."
Amos Akpandem, Depot Manager at Coca cola, Igbo-Elerin axis of the Lagos-Badagry Expressway said: "This is a great marriage consummated in one of the most amusing ways. "I understand it took them about three years to put this right before both parties. I think it is a move in the right direction. This will also boost our sales profile  as we see this marriage as a one-stop–shop for us, because of all the best products in juice drinks and carbonated soft drink."
Manufacturers speak
On what the acquisition means to coca cola, President of Coca-Cola West Africa,  Peter Njonjo said: "For us, it is significant for many reasons, first it points to our company's global aspiration to become a total beverage offering consumers a broad variety of brands that suit different taste, occasions and lifestyles.
"This acquisition further signals Coca-Cola's optimism about Africa's consumer opportunity and a commitment to its long-term investment and growth plan on the continent, where it has been present for more than 90 years.
Access, Diamond Bank deny alleged merger & acquisition talks
"Coca-Cola is continuing to evolve as a total beverage company, and Chi's diverse range of beverages perfectly complements our existing portfolio, enabling us to accelerate expansion into new categories and grow our business in Africa. We will support the Chi management team in building on the company's remarkable heritage and achievements, while using the scale of the Coca-Cola system to replicate their success in more markets across Africa."
General Manager, Chi Limited,  Deepanjan Roy said: "The acquisition means a lot to the Chi brand. This means that Chi as a company is doing something good that attracted Coca Cola to it. The deal is a welcome development." He however, refused to divulge the financial terms involved in the acquisition. It is a business decision," he said.