A group known as Nigerian Wailers has endorsed the flagbearer of the Peoples Democratic Party, Alhaji Atiku Abubakar as its preferred candidate for the presidential election scheduled for Saturday 23rd February 2019.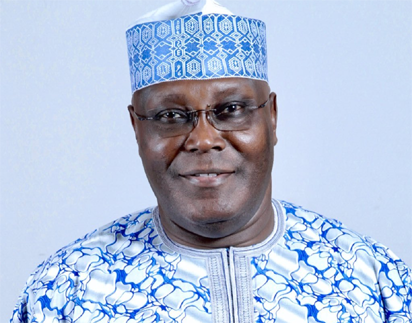 This position was made known during a press briefing where it reeled out the reasons why it is backing the former vice president.
In a statement signed by its National Publicity Secretary, Ibrahim Sani Ringim, the body expressed disappointment with the way the last three and half years have seen Nigeria retrogress on all fronts contrary to the expectations of an average Nigerian when the present government came into power.
The statement read: "Citizens of our country voted base on trust, and based on what was presented before them in 2015, in which the APC manifesto detailed 81 campaign promises which were later summarized into ECONOMY, ANTI CORRUPTION, and SECURITY.
"But sadly today, those promises have been largely abandoned, giving rise to harsh condition for citizens. Not long ago, Brookings Institutions relayed it's report that Nigeria has become the poverty capital of the world, indicating that no fewer than 87 million of our population are battling with extreme poverty.
"Even more worrisome is the anti-corruption fight that has become a farce owing to Buhari's government open bias in the way and manners his anti-corruption crusade is being carried out, reducing it to a political tool as members of the oppositions are primarily and exclusively the target of graft fight.
"During his campaign for election, Buhari flaunted his military background and assured Nigerians of facilitating the rescue of all the kidnapped Chibok school girls within three months and crush Boko Haram to ensure that within one year, none of our territories is being held hostage by the insurgents, after his emergence.
"But like other promises, that remained unfulfilled as Boko Haram still carryout onslaughts in the troubled states and several numbers of citizens and soldiers have died as a result. It is discomforting that despite the $1b dollar taken from our treasury to procure arms to combat this ugly menace, the insurgents are becoming more and more emboldened that even Internally Displaced Persons (IDPs) camp are not spared.
"The economy, was, however, the most hit under Buhari government, which contrary to assurance of reviving it, has become worse, plundering into recession in 2016 and throwing millions of Nigerians out of jobs. To us, Buhari record isn't inspiring and we therefore don't want Nigerians to gamble with his re-election as it would amount to a trial and error for another four years.
"Given our conclusion that the abysmal performance of Buhari doesn't deserve another term, we extended our assessment to other major players across political parties, as well as sensor opinions from our members and the general public through an open, transparent online polls across our platforms, and Alhaji Atiku Abubakar of the Peoples Democratic Party (PDP) was voted for overwhelmingly as our preferred Presidential candidate.
"Alhaji Atiku was the former Vice President of the Federal Republic of Nigeria between 1999 to 2007, an administration that saw our foreign debt cleared off, that brought about the GSM revolution, and an administration that set up EFCC, ICPC to fight financial graft and also set up Bureau of Public Enterprise and other National development agencies that shore up our economy from the military era.
"Atiku is the most experienced candidate in the contest and we are convinced that his mission to "Get Nigeria Working Again" is the ideal and right path to adopt at this critical stage of our country. Getting Nigeria to work is the most potent remedy to the varying challenges confronting the country, including insecurity.
"Based on these facts, we want to join other well-meaning Nigerians, groups to formally endorse ALHAJI ATIKU ABUBAKAR as our Presidential candidate.
"We want to make it abundantly clear that, by this Press Release, we have ENDORSED the candidacy of Alhaji Atiku Abubakar of the Peoples Democratic Party (PDP) as our preferred choice.
"We, therefore, call on ALL WAILERS across the country and in diaspora to rally all necessary support for Alhaji Atiku to ensure that he emerges as the next President of our great country.
"We want to equally use this opportunity to call on all Nigerians, to come out en masse, to vote for Alhaji Atiku on Saturday because he is the best among all other candidates in this election.
"May we advise all our members and Nigerians as a whole, to ensure that they vote and protect their votes from any form of manipulations, and also ensure that they canvass votes of other like minds to vote for Atiku and make it counts in any polling booths or voting centers they find themselves across the country.
"Let us also remind Nigerians that voting is a duty they must exercise and they must not be intimidated on the day of election.
"We want to use this medium to prevail on the INEC not to disappoint Nigerians, and reject and pressure to conduct staggered elections in order to avoid voters apathy.
"Just as President Buhari observed while laying the 2019 budget, INEC should be aware that the whole world is watching. We call on security forces to carry out their task with utmost professionalism and must help in upholding good image and integrity of this election, which we want to be credible, free and fair without ballot snatching, underage voting and needless loss of lives as a result of political killings and violence.
"We want to encourage President Buhari to emulate former President Goodluck Jonathan should Nigerians not renew his mandate and ensure a peaceful handover and not put the lives of innocent Nigerians on the line. As the leader of the country, he should put himself in a position of an elder statesman and prevail on his supporters not to foment trouble if the ballot goes against him, especially in the North
"Finally, we would like to make it abundantly clear that, we are drumming our support for Alhaji Atiku Abubakar base on some of his past achievements, track record, and his campaign policy document, however, if he renege on his promise to get Nigeria working again, we would be the first group to start criticism of his government.", it concluded.