By Dapo Akinrefon
PROPHET Jeremiah Fufeyin is the founder and General Overseer of Christ Mercy land Deliverance Ministry, Effurun, Delta State.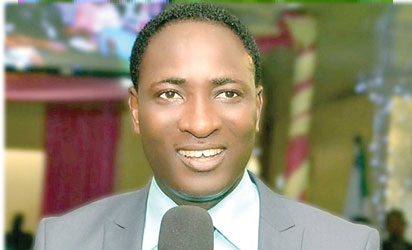 In this interview, the cleric advises against the shedding of blood in the general elections, saying Nigeria is one big family. Excerpts:
Two weeks ago, you were said to have prophesied that the Feb 16 elections will be postponed. Is it true?
God is not a man, but God Almighty. Truly we have prophets and true prophets of God, so what a true prophet of God says must surely come to pass.
I gave this prophecy twice on February 7th and 8th that the elections will not hold that day (February 16th) and the prophecy came to pass. A lot of politicians called me and praised me as a true man of God. Above all, the prophecy makes people to believe that I am truly of God and also believe that the living God is working at Mercy City. This shows it is good to serve God; and even some prophets called me, saying they marveled at my prophecy that actually came to pass.
How do you see the conduct of the general elections?
This is a trying moment for Christians, especially the clergy and, it behoves on all of us as Christians to pray and seek the face of God for a peaceful and crisis-free exercise. We don't have power of our own and, God Almighty is the ultimate and we should always draw closer to God in everything that we do.
Don't forget that God is the Alpha and Omega, he is the beginning and the end; he sees things differently from the way we see things too.
God Almighty should come and assist us because he is the saviour of mankind. However, I detest unnecessary shedding of blood; in fact, there is no need we should be killing each other because of election because God Almighty in his throne of grace already knows those that will emerge victorious at the end of the exercise; so, we should stop killing ourselves for nothing: God created all of us to prosper and live together like brothers and sisters, so, why should we kill each other because it is in the Bible that we should allow brotherly love to continue and, also the Ten Commandment, says that: "Thou shall not kill," above all, we should stop the unwholesome attitude.
What effort are you clerics making towards ensuring a peaceful exercise?
The truth is that myself with Apostle Sulieman, Pastor Chris Okafor and other great men of God have been praying fervently for the peace of this great nation and also for the purpose of this election because we don't want any bloodshed in any part of the country and it is not necessary because we are all brothers and sisters, and we belong to one indivisible family.
My candid advice to Nigerians is that we should embrace whoever God place on the throne as the President of this great African nation, called Nigeria. But we should remember that election is not worth dying for because in the words of ex-President Goodluck Jonathan he said that no soul should be lost because of election, rather, we should continue to embrace each other as one because we belong to one large family. My business in this wise is to ensure there is abundant peace at all times and let justice be done.
How true is it that you are planning to relocate the church's headquarters overseas?
No. That is not true because God has not told me to relocate to abroad, because my calling is to preach Christ to every nation, including to foreign countries. Honestly, my main objective is to continue to pray and deliver people and also win souls to Jesus Christ. Why I do go to foreign countries to preach the gospel and save souls is that many people in foreign countries cannot come to Nigeria, hence I always travel abroad to propagate the word of God, and, I tell you, a lot of souls have been saved through my preaching and sojourn abroad. However, I will continue to reach out to them according to the tenet of Jesus Christ.
Besides the propagation of the gospel, what other things do you venture into to strengthen the ministry?
We have always been assisting the needy, both members and non-members, we don't discriminate because Jesus Christ did not teach us that way; and, if you really want to follow the ways of the lord, you have to be thorough and fair to all and sundry; we don't discriminate within the Christian fold; we embrace every Christian.
What should be expected at the forthcoming crusade where Rev. Lucy Natasia from Kenya will be ministering on March 27th?
Yes, Rev. Lucy Natasia a powerful woman of God, she is coming to further win more souls for Christ, so the crusade will be explosive.
What efforts are you making to ensure people in your domain refrain from idol worshipping?
I have been able to bring a lot of them to Christ Mercyland Deliverance Ministry and thank God those that come here are now born again and true worshipper of God. So, it is not hard for Ijaws to worship God, even though our forefathers worship idol but God helping us, they have been liberated.
Is it true you use supernatural powers to perform miracles?
Well people are entitled to their opinion. I tell you this type of unfounded allegation and what I will describe as blasphemy.
How has it been since you started the ministry?
Well, God is very faithful and with him, we are succeeding every day. This is the seventh year the ministry started.
Though we started with very few people, who believed that God is the Alpha and Omega some seven years ago, but I thank God that today we are close to 40,000 worshippers; in fact, God has been very faithful and he is helping us to grow.
How do you place yourself in the Christendom?
I always believe that I am not the first and will never be the last.