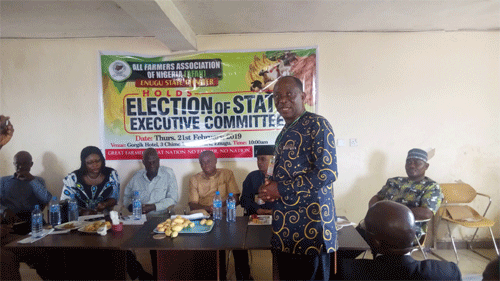 By Chinedu Adonu
ENUGU – SOUTH East zonal Chairman of All Farmers Association of Nigeria, AFAN, Mr Daniel Okafor on Thursday charged Nigerian youths to return fully to agriculture, saying it would sustain the economy of the country.
Mr Okafor who made this call while speaking during the AFAN, Enugu state chapter election held at Grisox Hotel, N3 Chime Lane, GRA, Enugu, said that agriculture had the potential to become the most significant way to achieve economic development in Nigeria.
NAIC assures farmers on adequate insurance cover
Mr Okafor, who described agriculture as a very significant sector, charged farmers to pay more attention to the industry as it could provide employment for more than 75 per cent of the unemployed population in Nigeria.
"Nigeria is endowed with the capacity to produce a variety of agricultural products if the right resources were provided to farmers.
"We should all focus on agriculture because it has a lot of potential. The executives we are electing today will lead us to another level to improve the economy of our country," he said.
During the inauguration, Mr Okafor charged the newly elected executives to ensure that they carry every farmers in the 17 local government area in the state along.
In his speech, the newly elected chairman frowned at the poor treatment  of farmers in Nigeria noting that it was only through intensified farming that the nation can achieve food security.
"Today great day in the history of farmers in Enugu State. I thank for making us farmers. Some people are not proud of being farmers but in developed countries, farmers are the richest.
"The reason why we are suffering in this nation is because we abandoned farming, but I thank God that we are all going back to farming. We have not been very successful in working with the Enugu state government. By the grace of God, I'm going to put pressure on government to recognize us.
Security : Umahi alleges plot by thugs to bomb INEC LGA offices in Ebonyi
"It is only through agriculture that we can achieve food security. It is only agriculture that will give us what we want because a hungry man is an angry man. When you are hungry, you are angry and anything anybody does, you will attack the person. But if we all feed well, there will be no problem within us.
"So we will make government understand that we need food security in the state. Farming is he only thing that will reduce unemployment in the state, so that our people will have something to do.
"I thank the national electoral committee and the director federal ministry of agriculture and our national secretary. I pray that with your cooperation, this regime will be successful." He said.
Newly elected executives are, Chairman, Mr Romania Eze, deputy chairman, Chief Eneh Emmanuel, Vice chairman, Mr Ugwu Linus from Enugu North, Mrs Edith Onyia from west and Past Henry Anuigbo, secretary, Ekete Romanus, Financial secretary, Mr Fidelix Okwor, Treasurer, Mrs Olamide Chidimma,  and many others.