By Agbonkhese Oboh
LAGOS—THE Lagos  State All Progressives Congress, APC, governorship candidate, Babajide Sanwo-Olu, has said the welfare of Lagosians has nothing to do with politics, but everything to do with service to humanity.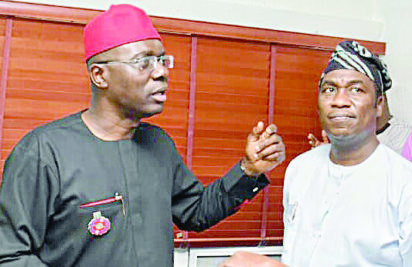 Sanwo-Olu said this, Wednesday, at Shomolu Local Government secretariat while flagging off the BOSKOH Medical Mission in partnership with Professionals for Humanity, PROFOH, International, a Houston, USA-based organisation made of doctors, nurses, health workers and volunteers from across the world.
He said: "It is not just election campaign, as we do not ask about party affiliations, PVCs, tribe or state of origin. Welfare is beyond politics, but all about service to humanity.
"BOSKOH/PROFOH medical mission is a step up from Sonwo Cares, an outreach to all local government areas in Lagos while on my campaign trail, which is focused on basic health checks: dental, eye, cervical cancer and how to manage and do test for breast cancer.
"However, we realised that a lot of people haven't been able to access regular health care, hence, the collaboration, because while on the campaign trail, we can also help government clear backlogs of surgeries."
Also speaking, Dublin, Ireland-based Nike Osa, a director with PROFOH, and Coordinator of the medical mission with BOSKOH, said: "We are doing our quota in helping the people. Sanwo-Olu's campaign is dynamic, so it helps us reach the grassroots.
"We are operating from five centres. For instance, Onikan General Hospital takes care of plastic surgeries; Lagos General Hospital is for paediatrics, hernia, fibroid, while obstetrics and gynaecology is in Shomolu, and so on."
https://www.vanguardngr.com/2019/02/ethnic-diversity-an-advantage-to-achieve-greater-lagos-says-sanwo-olu/