By Dapo Akinrefon
Mr. Jimi Agbaje is the governorship candidate of the Peoples Democratic Party,  PDP, in Lagos State. In this interview, Agbaje speaks on his plans to turn around
the fortunes of the state among other issues. Excerpts: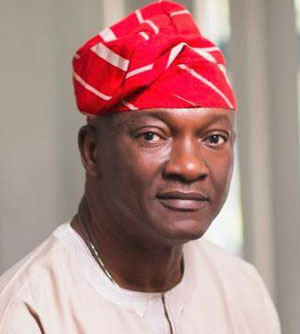 Your campaign council and the PDP have complained about the destruction of your billboards and posters in some parts of Lagos State. Have you been able to resolve it with the agency of government in charge of this?
This is not the first time that we are running campaigns in Lagos State and the law for a waiver for posters for a political campaign is there.
The ruling party in Lagos has had a field day with their posters even before we started our campaign and no one harassed them. But when we put ours on the Third Mainland Bridge, it was vandalised the next day and for us, it was a sign of intolerance. The first reaction from the ruling party was that they denied, but four days after LASRAA came out to accept responsibility. But I believe that if it was LASRAA that did it, they would not have thrown it on the bridge, they would have marked it instead. But because of the outrage, LASRAA tried to use legality to the illegality that happened.
It took them over four days to come up with that. We went back and put back the boards but after that, we still found people coming to take it away in the night and we caught them and handed them to the police. It was after that, we got a very unprofessional and uncouth letter from a government agency but I would reserve my comments on that.
After that incident, we now got another letter from an advert agency claiming that they are the ones that have the rights to the Third Mainland bridge and that the rights were given to them by the Federal Government because it is a federal highway. My campaign now came to the conclusion that LASRAA was working outside its jurisdiction. They didn't even have any rights to the Third Mainland Bridge if the agency is to be believed. In a civilised country, we are supposed to sue LASRAA.
One of the biggest challenges facing Lagosians is traffic congestion. How do you intend to tackle this if elected as governor?
The first problem why we have this problem is because those who have been in leadership in the state for the past 20 years cannot say that they had any plans for the future. We always refer to the Jakande era where he had the foresight to build the Lekki Epe expressway. If he had not built it, I am not sure that there would have been a road there. In the last 20 years, the leadership in Lagos did not achieve much.
The other issue is the lack of urban planning. You find out that when children are on holiday, there is less traffic because people move about less. We have children who live in Ikorodu but schools in Yaba and they are adding to the traffic, whereas, if they had good schools around their vicinity, there would not be the need to go far. With urban planning, you are developing self-contained areas such that by the time so that by the time you have shopping complexes and offices in Ikorodu, there would the no need to go far.
We should have a situation where 80 percent of those who live in Ikorodu should be able to find work within their vicinity. It is all part of long term visionary planning.
We should also have the culture of maintaining our infrastructure like filling up potholes; these are short term measures that we can always carry out. Most often, you discover that potholes are the major cause of traffic jam.
Unfortunately, the governor has become a lame duck governor because he does not have the drive or the incentive to govern that is why no one is doing much anymore. We have to go back to the local government which has been missing for the last 20 years because they are responsible for the potholes. It is their job to repair such and not the state government.
In terms of technology, we have the radar which sees where the traffic is headed and where there is heavy traffic, it would change the fixed time of the traffic lights from say 90 seconds to two minutes. Where there is no traffic, it would reduce it from 90 to 30 seconds. These are some of the things we are talking about.
What is your plan for the management of waste in the state?
Lagos has lost out in terms of transformational leadership in 20 years. What we have had is incremental development and that is why we say that we are re-anchoring Lagos on the performance of the Jakande administration.
What you find is that not much is happening. Lagos generates 12 to 14 metric tonnes of waste, which is equivalent to 400 trailer loads every day. How do we dispose it off? We take it to the landfill. In developed countries, waste is seen as a resource rather than a problem.
Advanced countries recycle and reuse waste. What they aim for is to have zero waste so that they do not even need landfill. But for us today, we are relying on 90 something percent of the landfill. The real way forward is to recycle and reuse so that we do not need landfill.
Because our residences are not accessible to vehicular traffic due to bad roads, it is not where you line up heavy duty trucks. That is why you also need the Private Service Providers, PSP, to collect waste from the home and bring out to where the trucks can take them to the transfer loading station. Another problem with our present arrangement is that the PSP's do not operate in a transparent manner. Waste collection is not something in which you can measure performance. So, if for instance, the government says that it has 100,000 sweepers or collectors, you cannot say if it's true or not. We need to be transparent in the number of people that we are paying and those that are actually doing the work. We cannot ascertain if the numbers of workers in the books are as many as those that are actually doing the work. In the case of Visionscape, I cannot say if they bit more than they could chew. I feel that maybe the government could have brought in two or three waste companies instead of one which looks like they cannot handle the job given to them.
In the recent elections, we have had elections where there was a high incidence of vote buying. Are you apprehensive that such a scenario will play out in Lagos?
My fears are not so much about vote buying because Lagos has a very large population, so anyone who wants to buy votes in Lagos would have to empty the treasury in terms of the numbers because it would be very expensive. Yes, we do have our fears that of intimidation like it happened in Osun. We fear that the environment would be made inconducive for people to come out and vote on the Election Day. One way to reduce vote buying is to give privacy to the ballot.
What you find is that there is a deliberate act to cloud the area where people vote so that you do not know which party is being voted for. It is not all about money, it is also about intimidation. Do not forget that most people at the grassroots are private people but rely a lot on the government. The vulcanizer knows that if it is discovered that he did not vote for the ruling party, he may lose his position where he does his business, may decide to vote out of fear.
In this election, there has been so much campaign of calumny instead of campaigning on issues. What does it portend for our democracy?
In my campaigns, I usually ask Lagosians to look back and ask themselves what the state has achieved within 20 years and compare it to other mega cities around the world. I try to put things in perspective. Jakande was governor for less than five years and his legacy is still evident. But 37 years after, what can we say about those who have been in power for over 20 years? Can we truthfully say that they have been able to achieve in 20 years what Jakande achieved in less than five years? Is our education better? Is our healthcare system better? Are our roads better?
Is the economy better? It means that those who have been in a position in Lagos for the past 20 years were more interested in their personal interests than offering selfless service. It is not about abuse, it is about the reality that we want voters to see. We are pointing out to Lagosians that the wealth of the state is in the hands of a few vested interests who are more concerned about themselves than about offering selfless service.
Lagos is the worst state in Nigeria to get approval for a building. We have an Economist Intelligence Unit report that puts Lagos at 138 out of 140 for the worst cities in the world. Our job is to open the eyes of our people to know that we are not doing well as a state.