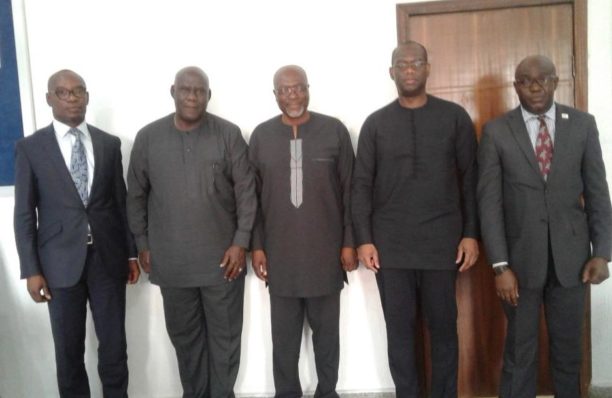 *Ebo (second left) with other officials of FMBN and Anambra Housing Corporation
By Vincent Ujumadu
Awka—AS part of efforts to provide decent and affordable houses for all categories of Nigerians, the Federal Mortgage Bank of Nigeria, FMBN, has concluded plans to collaborate with the Anambra State Housing Corporation for the take off of some of its programmes in the state.
An executive director with the bank, Mr. Melville Ebo, who hinted on the proposed schemes when he led officials of FMBN for an interaction with the managing director of Anambra State Housing Corporation, Mr. Willie Okafor in Awka, said the state was qualified for the schemes because it is up to date with contributions of the National Housing Fund, NHF, for the development of housing schemes.
Essentially, Ebo was in the state to appeal to Anambra State for land for the housing projects expected to take off by the middle of this year after the commissioning of ongoing projects in Enugu and Abia states in the South-East geopolitical zone, as well as in Akwa Ibom and Delta states in the South-South.
Among the housing programmes likely to take off in the state in the near future are the Cooperative Housing Scheme in which 50 houses expected to cost N500 million at N10 million for each unit and the Home Renovation Programme in which loans that would attract six per cent interest, would be given to workers to renovate and upgrade their existing houses.
According to Ebo, there is also another scheme jointly being promoted by the FMBN, the Nigeria Labour Congress, NLC, the Trade Union Congress, TUC, and the Nigeria Employers' Consultative Association, NECA, which is an umbrella body of employers in the organised private sector in Nigeria.
He recalled that Anambra State Government received a disbursement of N200 million in 2007 for the cooperative housing project, adding, however, that because the project was not implemented as required, the incumbent governor of the state, Chief Willie Obiano, refunded the money, thus qualifying the state to benefit fully from the N500 million project.
Ebo said: "Participation of Anambra State from the NHF is very low and we hope that with Mr. Okafor in the saddle, the state will take its rightful position in the programme because there are a lot of programmes the state can benefit from.
"The housing projects are for every Nigerian and our expectation is that everybody should benefit from it. We expect our projects to be sited in areas that workers can transport themselves easily to work."
In his response, Okafor assured that the state housing corporation, as the arrowhead for housing development in the state, would collaborate with the FMBN to ensure quick implementation of the various schemes.
He informed Ebo that the state housing corporation was already executing a number of housing projects in the state in line with the state government's policy of providing adequate houses for its workers in various parts of the state.