By Olasunkanmi Akoni
Barely five days to the condunct of the general elections, Senator Gbenga Ashafa, representing Lagos East Senatorial District, has urged voters in Magodo and environs in Ikosi-Isheri Local Council Development  Area, LCDA, to vote for President Muhammadu Buhari, Yemi Osinbajo and other All Progressives Congress, APC, candidates in the February 16 election.
He stressed that corruption should be killed totally through the February 16 poll "or else corruption will come back to kill us."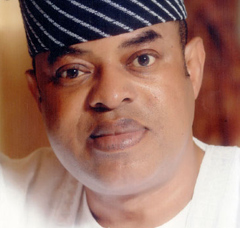 Ashafa made the plea, yesterday, at the commencement of door-to-door campaign and sensitization of Magodo residents for Buhari's re-election and all APC candidates in the forthcoming Presidential and National Assembly election this Saturday, organized by Gbenga Ashafa Campaign Organisation. Also in attendance were chairman Magodo Residents Association, Mr. Jade Niboro and APC chieftain in the community, Chief Lanre Obisesan.
https://www.vanguardngr.com/2019/02/president-buhari-is-also-guilty-of-corruption/
Other candidates Ashafa canvassed votes for are; Senatorial candidate for the Lagos East, Bayo Osinowo and Rotimi Agunsoye, House of Representatives candidate for the district, Governorship candidate, Babajide Sanwo-Olu, and other APC candidates.
Ashafa, who listed the achievements of the President Buhari as one of the reasons for their vote, promised that Buhari would do more for Lagos State in particular and South West, in general if re-elected.
He mentioned, Lagos-Ibadan, Ikorodu-Sagamu Expressway rehabilitation and expansion projects, Lagos-Ogun-Ibadan standard guage rail-line, just commissioned and several laws passed into law by Buhari's administration as some of the achievements that would be sustained and improved in the Next-Level if reelected.
Ashafa, after a door-to-door campaign and sharing of flyers, later converged on the premises of the Magodo Residents Association Secretariat,addressed some residents, largely made up of middle class, on the need to vote for Buhari, saying a vote for him is a vote for progress.
According to the senator, The People Democratic Party, PDP destroyed the country for 16 years through corruption. He added that throughout the 16 years of PDP's misrule, it was able to pass into law a dozen of bills, while in less than four years, Buhari signed 51 bills into law and in the process of implementation.
Ashafa said; "I want to assure you that if you vote for Buhari, he will do more. Corruption must be killed totally, or else corruption will come back to kill us.
"Please be in the same ship with us to conquer corruption and other ills out of Nigeria together."
He noted that, "The feat which brought the APC to power was led by our highly revered leader, Asiwaju Bola Tinubu, and a host of other leaders in Yoruba land.
"We want to sustain all his achievements in the next level in a way that the gains recorded by the President too on the fight against corruption will not be reversible.Corruption is giving way to era of accountability, transparency and probity in governance.
"Nigerians shouldn't be carried away by campaign of calumny by PDP to steal power again. They can not get because they are bunch of corrupt fellows.Therefore, let us continue to vote for progress like APC and never go back into retrogression."
Ashafa however, took time out to educate residents and electorate on proper method of voting, saying, "On the day of election, it used to be your thump but now, use your index finger to prevent void vote. So put your index finger on APC symbol which is the broom, look for it and vote en-masse for APC from top to the bottom.