By Emma Amaize
ASABA – ALL Progressives Congress, APC, Delta South Senatorial candidate and former Governor of Delta State, Dr. Emmanuel Uduaghan, has called for the cancellation of the district's senatorial polls held last Saturday, saying it was massively rigged.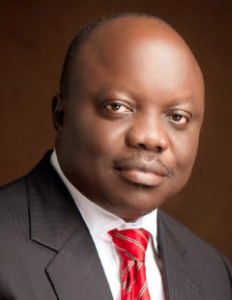 Jos: Voting commences early, voters come with chairs, food to polling units
In a petition to the Resident Electoral Commissioner, Delta State, by his lawyer,  E. Otaru,  he said there was massive election malpractices "perpetrated through voter intimidation, where voters were compelled to vote against their conscience by thugs, who were openly brandishing various dangerous weapons."
Uduaghan's petition to the state Independent National Electoral Commission, INEC, Commissioner came as the Collation Officer was still collating the senatorial results at Oleh in Isoko area of the state.
He provided videos of some persons being intimidated with woods by thugs allegedly at polling units 5, 6, 7, 8 in Ogbe Ijoh Ward One, Warri South West LGA, parts of Bomadi, four wards in Warri South-West and part of Warri North.
According to his lawyer, "Voting slips were hijacked and in some cases, destroyed, especially in polling units where it is perceived that the APC, head the upper level.
"It is pertinent to point out that these malpractices were made possible by the collaboration of INEC officials with these thugs identified as the Peoples Democratic Party, PDP, supporters.
"The areas where these malpractices were more brazen and massive include Burutu, Warri North, Warri South, Bomadi, Patani, Warri South-West , Isoko North and Isoko South Local Government Areas.
"It is obvious that the outcome and/or the results from the above listed local government areas, if nothing is done about them will reflect not reflect the will of people and their wish to freely elect the candidate of their choice.
"Based on the foregoing, we have our client's instructions to call on you sir and appeal that the election in the aforementioned local government areas be cancelled," his lawyer said.