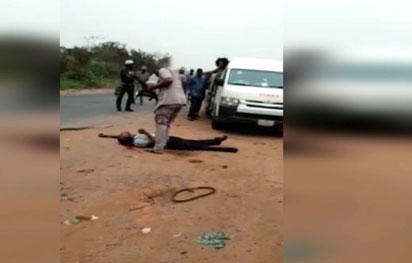 By Chinedu Adonu
ENUGU – CIVIL Right Realization and Advanced Network, CRRAN, has petitioned the Nigerian Police to investigate the murder of a young man by a Customs officer along Lagos-Benin express way.
The president of the group, Barr. Olu Omotayo in a petition made available to newsmen stated that it is only the police that have the power to investigate the matter.
Barr. Omotayo also said that Lagos-Benin express way is not safe for travelers as murdering of innocent citizens by custom officials keep reoccurring.
The petition reads: "The Civil Rights Realization and Advancement Network (CRRAN), writes to you in respect of the above-mentioned matter in which a male citizen of this country was shot to death at close range by a custom officer.
Hameed Ali:  The Nightmare Of Border Syndicates
"The video which is all over the social media is self explanatory. Though the Nigeria Customs authority has reacted but it is incumbent on the Police authority to intervene and investigate this matter based on the following grounds.
"An offence of murder has been committed and by virtue of the laws of the land, it is only the Nigeria police that is empower to investigate and bring the culprits to book.
"It is only the intervention and proper investigation of this matter by the Nigeria Police that would bring back confidence to Nigerians and assured them of their safety while plying our roads particularly the Lagos -Benin Expressway which has on many occasions been made unsafe due to the activities of para military agencies like the customs and officials of Road safety Commission.
"It is the duty of the Nigeria Police to protect Nigeria citizens and all road users.
"The Nigeria Customs Service does not have the power to investigate cases of murder as happened in the present case.
"It is in the interest of justice and the country as whole that you order a thorough investigation into this case and ensure that justice is done as the circumstance of this case demands".