Strong regulation, managed exchange rate to be maintained — Analysts
By Babajide Komolafe & Peter Egwuatu
The re-election of Buhari and the ruling party's renewed majority in the national assembly impacted on the stock  market yesterday, with investors losing another N85 billion while the benchmark index fell by 0.7 percent.
Data from the Nigeria Stock Exchange showed that the market capitalisation, which represents investors' worth in the market, dropped to N12.02 trillion yesterday from N12.11 trillion on Tuesday.
Similarly, the stock market benchmark index, Nigerian Stock Exchange, NSE All Share Index, ASI plummeted to close at 32,244.24 points from 32, 473.82 points it closed on Tuesday.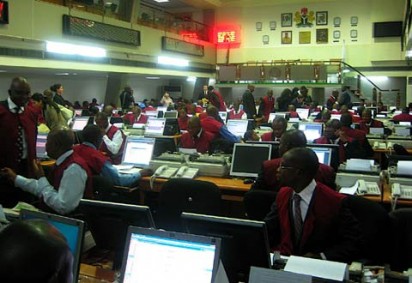 Recall that the market had on Tuesday recorded a bearish run as it declined by 0.69 percent, while investors lost N84 billion.
Analysis of Wednesday trading shows that the decline was impacted by losses in the oil/gas and banking sectors.
However, analysts at Coronation Merchant Bank are of the opinion that the ruling party's victory will lead to speedy passage of the budget, while the country will maintain government with strong regulation and managed exchange rate policy
This assertion was made in a statement titled, 'Implications of APC victory'.
They stated: "This morning's announcement of election results saw the All Progressives Congress (APC) of President Muhammadu Buhari retaining the presidency, defeating the challenge from the Peoples Democratic Party (PDP) of Atiku Abubakar.
"This implies a continuation of government based on firm regulation and security. However, while Buhari's first term sailed into the oil price crash of 2015 and the recession of 2016, economic conditions are different – arguably better – now.
"The APC's renewed majority in the Senate is significant. The Senate proved frustrating to Buhari's agenda in his first term, 2015-19; expect the budget to be passed quickly this year.
"Nigeria will almost certainly continue with a managed exchange rate. As we argue in Coronation Research: Year Ahead 2019, A  Year of Two Halves, 15 January, the Naira is within 10 percent of its fair value, so fundamental pressure to revalue it is weak. Forex reserves are $42.4 billion, which we calculate is compatible with Naira/Dollar stability, at close to NGN363 per dollar, for the rest of 2019.
"A feature of President Muhammadu Buhari's first term as President was weak economic growth, 2015-18. GDP developed well below trend and fell into recession in 2016. One key cause was the oil price collapse in late 2014 and 2015 which put pressure on: government revenues; the Naira exchange rate; the trade account; and Nigeria's ability to import critical industrial inputs.
"Low growth has been associated with rising unemployment, which not only took off in 2015 and 2016, as the economy slowed and went into recession, but continued to rise during the weak recovery that followed.
"The administration's policy emphasis during this period was on: security; the fight against corruption; tax compliance; and tight regulation, which included exchange controls. Agriculture (25 percent of GDP) was supported with subsidized fertilizer and soft loans, and never went into recession; and an Economic Recovery and Growth Plan was enacted. One can argue that, after Naira devaluations in 2016 and 2017, the worst is behind us.
"If external shocks in the coming period 2019-23 are not as great as those during 2015-19, then the nascent economic recovery might give this administration an opportunity to address pressing domestic issues. These include the insurgency in the North East, the herdsmen crisis in the Middle Belt, and disruption in the Niger Delta. Economic growth is a better platform for politics than recession."
Subscribe for latest Videos