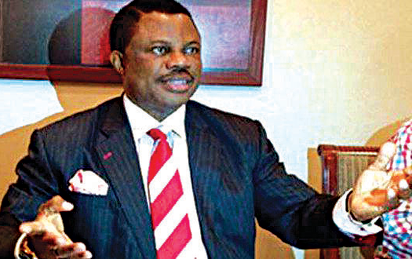 Chief Willie Obiano
No such memo —Obiano
By Vincent Ujumadu
AWKA—A MEMO allegedly sent to the administration department of the Anambra State Post Primary Schools Service Commission, PPSSC, to supply information about teachers and civil servants in the state ahead of Saturday's presidential election, is causing disquiet in the Atiku/Obi Campaign Council.
The Director-General of Atiku/Obi Campaign Organization in Anambra State,  Dr. Harry Oranezi, who expressed the worry, said the directive was indicative of a rigging plan, warning Governor Willie Obiano against acts capable of undermining the election and the electoral law.\
However, Governor Obiano, who spoke through the Commissioner for Information and Public Enlightenment, Don Adinuba said there was no iota of truth in the allegation.
Oranezi, who addressed reporters in Awka said: "Among many acts of the governor included threats of dismissal of Anambra civil servants that do not vote for President Muhammadu Buhari, the candidate of APC.
"The governor directed that text messages be sent to civil servants in the state. The text message read: 'Please submit a return on these details of staff in your school to Admin. Department of PPSSC Awka zonal office as directed by the Executive Governor of Anambra State, namely, 1, Name; 2, Voting Ward and 3.Polling Unit.
"Return to be submitted before close of work on 20/02/19. Please acknowledge receipt of this information."
https://newlive.vanguardngr.com/2019/01/financial-recklessness-by-okorocha-led-imo-into-n500bn-debt-ohakim/
According to Oranezi, the signal was sent to secondary school principals throughout the state, while a similar signal was sent to other civil servants in the state.
While challenging Governor Obiano to explain to the public and Anambra people the purpose of those signals, he urged Anambra civil servants not to yield to the threats and acts of intimidation; reminding them that they were "better off disregarding the governor, than to suffer four more years of deprivation, hardship and lack of vision under APC administration."
However, Adinuba, the Commissioner for Information urged the people to disregard the rumour, adding that the governor had consistently been directing Anambra electorate to vote for candidates of All Progressive Grand Alliance, APGA, in all elections.
Adinuba said: "Some political party members wrote a fake news report alleging that Governor Willie Obiano has directed Anambra voters to kill any person who fails to vote for the re-election of President Muhammadu Buhari next Saturday."
"When the report was written initially, their bloggers from Anambra State refused to distribute it because, apart from being unconscionable, it falsely paints their state in lurid colours. The writers now approached school dropouts who are not indigenes of the state to distribute it.
" It is ironic that the forged report was published on the social media on the day the Catholic Diocese of Nnewi was honouring Governor Obiano for principle-centred leadership which took into consideration his commitment to peace, order, healthy pluralism, sacredness of life and dignity of the human person.
"No matter the level of provocative propaganda against the governor during the 2019 general election by political desperados and all those who want to acquire power by all means possible, both the people and government of Anambra State have resolved that their beloved state will remain the most peaceful in the country and the most socially harmonious."